#EndSARS: Peace Ambassador Who Asked Buhari To Use Force On Protesters Apologises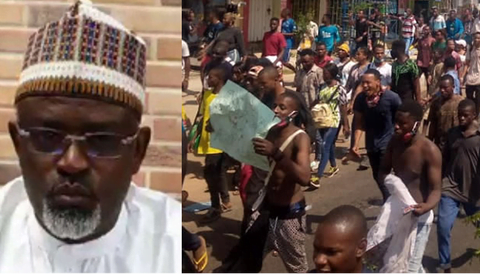 Hussaini Coomasie, a self-acclaimed United Nations Peace Ambassador, has apologized to Nigerian youths for calling on President Muhammadu Buhari to use force on protesters of the End Special Anti-Robbery Squad, SARS.
Coomasie in a video released on Saturday had stated that the protesters won't march out under the leadership of former President Olusegun Obasanjo like they are doing under Buhari.
He had said, "I blame Buhari for taking things lightly. There are certain things that should be handled with an iron fist. Vladimir Putin says you should take the necessary process to deal with irregularities and not due process. There are times due process does not work but necessary process."
"Whichever way that your country will be in peace, handle it. If the police fail to do what they are supposed to do, bring in the military."
The video, however, did not go down well with Nigerians who signed a petition calling on the UN to strip Coomasie of his peace ambassadorship.
Meanwhile, it was discovered on UN website that Coomasie is not a UN ambassador of peace.
Following the petition filed by Nigerians, Coomasie released a new video apologising to Nigerian youths and endorsing the protests.
He noted that he was only airing his opinion and didn't mean to offend anyone.
He said, "Good evening teeming Nigerian youths out there on the streets day and night protesting for the end of SARS or police brutality. As a Nigerian, like any other Nigerian, I have a right to air my view."
"It may suit some people and it may hurt some people but in whichever way you take it, I am deeply sorry for the utterances I made in that video. Please accept my sincere apology. I endorse you fully and wholeheartedly."