Prophet Odumeje Endorses #EndSARS Protests, Prays For Protesters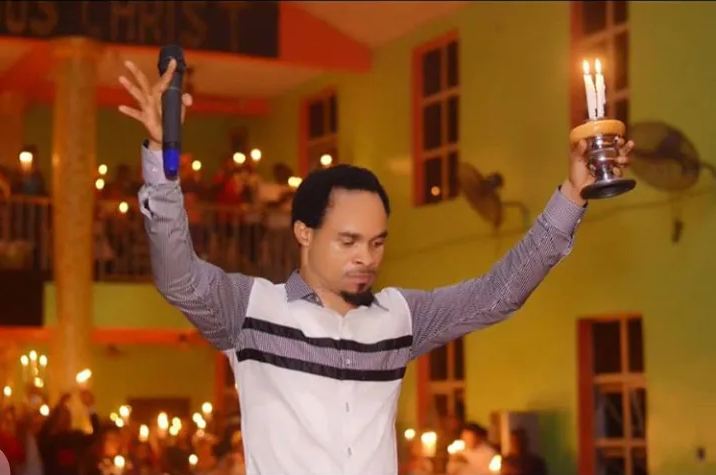 Prophet Chukwuemeka Ohanaemere better known as Prophet Odumeje has endorsed the ongoing #EndSARS protests across various states in Nigeria, praying for the protesters in the process.
Naija News reports that protesting youths in Nigeria are agitating for the end to police brutalization and extrajudicial killings of Nigerians. The protesters have been on the streets for more than a week now, protesting the brutalities, humiliation, and extortion of Nigerians, especially the youths.
The protesters demanded an end to the Special Anti-Robbery Squad (SARS), a police unit under the Force Criminal Investigation and Intelligence Department headed by the Deputy Inspector General of Police Anthony Ogbizi, using a hashtag: #EndSARS.
On Sunday, October 11, 2020, the Inspector General of Police (IGP) Mohammed Adamu disbanded SARS following a widespread protest from Nigerians worldwide.
However, since the announcement that SARS has been scrapped, the protesters have refused to leave the streets, which a Presidential Advisory Committee says might force the Federal Government to take drastic measures against the protesting youths.
Reacting to the ongoing #EndSARS protests across various cities in Nigeria in a post on the micro-blogging site, Twitter, Prophet Odumeje tweeted: "I feel their pains.
"Let's join hands to make this place a better place for you and me. Your efforts won't be in vain because God of Intervention is still on His Throne," the Prophet who is known by his nicknames: "The Lion, Indaboski or Liquid Metal," tweeted.
I feel their pains. Let's join hands to make this place a better place for you and me. Your efforts won't be in vain because God of Intervention is still on His Throne. #EndCorruptionInNigeria #EndBadGoverance #EndPoliceBrutality #EndsSARS pic.twitter.com/zCmLyCqVHP

— Prophet Chukwuemeka Ohanemere (@Dlionhimself) October 17, 2020
Source: Naija News