'Buhari Is A Backward Individual With A Backward Mentality' – Imam Of Peace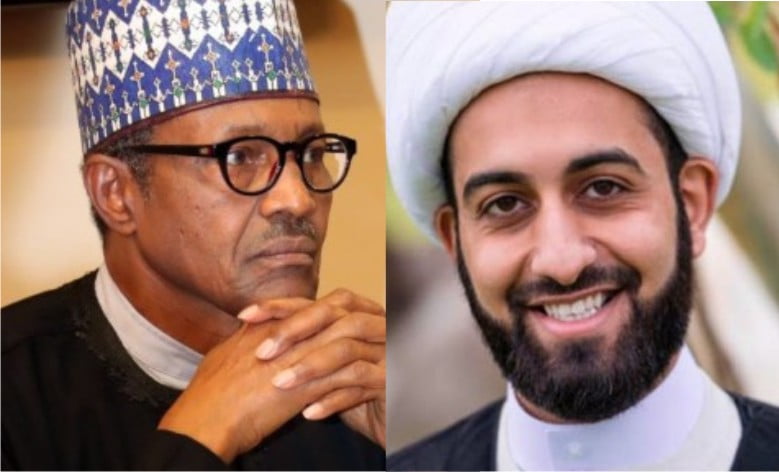 A Muslim influencer and reformist Imam, Mohammad Tawhidi, popularly known as Imam of Peace, has  berated President Muhammadu Buhari, describing him as a "backward individual with a backward mentality."
Naija News reports that the Islamic scholar who lampooned President Buhari in a tweet on the micro-blogging site, Twitter where he backed the ongoing #EndSARS protests, added that President Buhari has a "backward cabinet."
This online news platform understands that protesting youths in Nigeria are agitating for the end to police brutalization and extrajudicial killings of Nigerians. The protesters have been on the streets for more than a week now, protesting the brutalities, humiliation, and extortion of Nigerians, especially the youths.
The protesters demanded an end to the Special Anti-Robbery Squad (SARS), a police unit under the Force Criminal Investigation and Intelligence Department headed by the Deputy Inspector General of Police Anthony Ogbizi, using a hashtag: #EndSARS.
On Sunday, October 11, 2020, the Inspector General of Police (IGP) Mohammed Adamu disbanded SARS following a widespread protest from Nigerians worldwide.
However, since the announcement that SARS has been scrapped, the protesters have refused to leave the streets, which a Presidential Advisory Committee says might force the Federal Government to take drastic measures against the protesting youths.
On the backdrop of the protests, Imam of Peace had since on Friday, October 16, lent his voice to the #EndSARS protests across various cities in Nigeria in series of tweets on the micro-blogging site, Twitter, where he noted that the "violence and terrorism will only start coming to an end if Buhari is out of office."
Imam of Peace tweeted: "Buhari is a backward individual with a backward mentality and a backward cabinet. He believes in washing blood with blood. This violence and terrorism will only start coming to an end if Buhari is out of office. There's no other realistic solution."
Buhari is a backward individual with a backward mentality and a backward cabinet. He believes in washing blood with blood. This violence and terrorism will only start coming to an end if Buhari is out of office. There's no other realistic solution. #EndSARS #EndSWAT https://t.co/94QLfhyMrE

— Imam of Peace? (@Imamofpeace) October 18, 2020