VIDEO: How T.B. Joshua Predicted #EndSARS Protest In 2013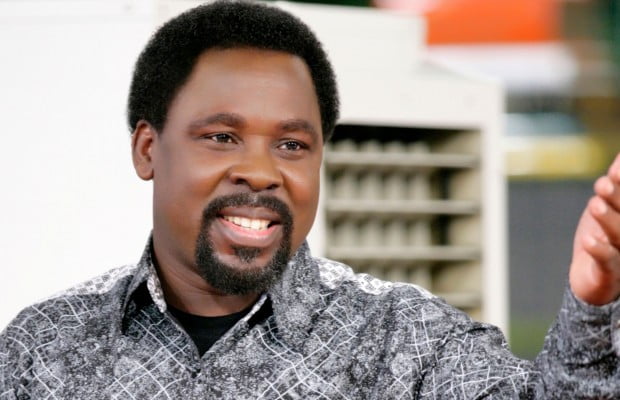 A video has emerged online showing Prophet T.B. Joshua, founder of the Synagogue Church of All Nations (SCOAN), predicting a youth revolt in 2013.
In a sermon at SCOAN on 14 July 2013, T.B. Joshua reading from a text that he title, "Carry your youth along', he predicted that a revolution is coming in Nigeria.
The cleric who claimed to have a vision from God said the revolution will start with a protest on the streets.
"Every revolution starts with a protest. When it starts by protests, at that protest, the power can stop them. But when it becomes revolution, no one can stop it," T.B. Joshua said.
"I am seeing people taking to the streets. It might be stopped at the beginning. But eventually it becomes so big, it cannot be stopped. .. Everyone is ready to die. This I see happen".
Watch T.B Joshua predict the #EndSARS protest:
Recall that Nigerians have taken to the streets to protest extrajudicial killings and brutality by the now-disbanded Special Anti-Robbery Squad (SARS).
Following pressure from protesters the Inspector General of Police (IGP), Mohammed Adamu, disbanded SARS and announced the formation of a new unit called Special Weapons and Tactics (SWAT) Team.
He also ordered former operatives of the disbanded SARS to submit themselves for psychological and medical examination at the Force HQ.
President Muhammadu Buhari had in a video on social media assured Nigerians that the reformation of the Police would be taken seriously by his administration.
Unsatisfied with Buhari and the IGP's actions so far Nigerians on social media began another advocacy using #EndSWAT as a replacement for #EndSARS.
The protesters are now calling for the arrest, parade and prosecution of officers of the defunct SARS responsible for harassment and shooting of peaceful protesters.
International celebrities and personalities had added their voice to the call for an end to police brutality in Nigeria.
Such individuals include Trey Song, CEO of Twitter Jack, Kanye West, Alex Iwobi, Mesut Ozil amongst others.
Download NAIJA NEWS app: