Angela Okorie, Other #ENDSARS Protesters Storm Ebonyi Govt House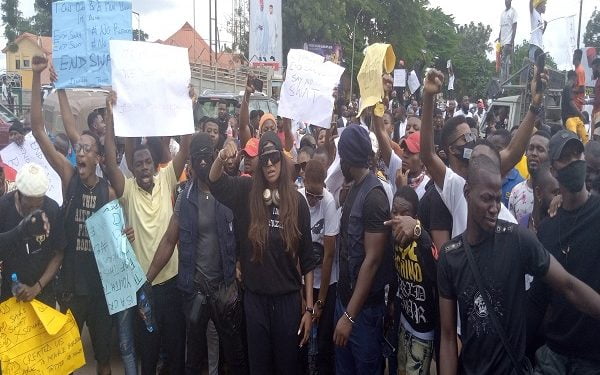 Nollywood actress, Angela Okorie and other #ENDSARS protesters blocked the old Government House in Abalaliki, the state Ebonyi capital and the Enugu Abakaliki highway for hours on Thursday.
Naija News reports that protesting youths in Nigeria are agitating for the end to Police brutalization and extra judicial killings of Nigerians. The protesters have been on the streets for six days now, protesting the brutalities, humiliation, and extortion of Nigerians, especially the youths.
The protesters demanded an end to the Special Anti-Robbery Squad (SARS), a police unit under the Force Criminal Investigation and Intelligence Department headed by the Deputy Inspector General of Police Anthony Ogbizi, using a hashtag: #EndSARS.
On Sunday, October 11, 2020, the Inspector General of Police (IGP) Mohammed Adamu disbanded SARS following a widespread protest from Nigerians worldwide.
However, since the announcement that SARS has been scrapped, the protesters have refused to leave the streets, which a Presidential Advisory Committee says might force the Federal Government to take drastic measures against the protesting youths.
On Thursday, the Old Government located in the heart of the city which is the official residence and office of the Deputy Governor and also houses offices of some top government officials, including the Secretary to the State Government and many other commissioners, was blocked  by the #ENDSARS protesters
This online news understands that the #ENDSARS protesters in Ebonyi gathered in front of the Abakaliki township stadium from where they preceded to the Government House.
At the Government House, the protesters who were buoyed by appearance of popular Nollywood actress, blocked the road for over two hours, a development which caused serious traffic gridlock on the ever busy road Ogoja road.
When #EndSARS protesters arrived the gate of the Government House, they demanded to see the Governor or Deputy Governor.  They were however told that the Governor, David Umahi was in Abuja while the Deputy, Kelechi Igwe, was also out of town.
Displeased with the development, the furious protesters proceeded to block the road for more than two hours after which they later left the Government House and moved to the Enugu-Abakaliki expressway.
The protesters blocked the expressway at the Spera-in-deo junction and later in front of Hariz filling station. Police and other security agencies monitored the protesters who were generally peaceful.