Biafra: Nnamdi Kanu Uploads Video, Claims Soldiers Are Searching For Biafrans To Kill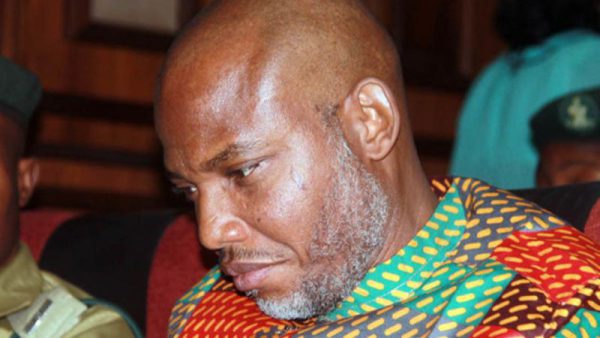 The leader of the Indigenous People of Biafra (IPOB), Nnamdi Kanu, has uploaded a video, claiming that soldiers of the Nigerian Army are in his village in Abia state, southeast Nigeria, searching for pro-Biafra agitators to kill.
Naija News reports that Kanu, who is also the Director of Radio Biafra, is agitating for the Republic of Biafra. His group, the IPOB which is also seeking to break away from Nigeria had since been proscribed by the Nigerian government led by President Muhammadu Buhari.
Like Kanu, the Movement for the Actualization of Sovereign State of Biafra (MASSOB) is also fighting the same course along with other pro-Biafra groups in Nigeria.
On Monday, October 12, Kanu took to the micro-blogging site, Twitter, where he uploaded a video of an Army patrol van patrolling in a place he claimed is his village, Isiama-Afaraukwu in Abia state.
Though Naija News could not identify as at the time of filing this report if the said video by the IPOB leader is a recent video but Kanu claims the incident occurred this morning in his village, Isiama-Afaraukwu.
The IPOB leader tweeted: "This morning 12 Oct. 2020 Fulani @NGRPresident ordered their uniformed terrorists in @HQNigerianArmy to start their Operation Show of Force in my village Isiama-Afaraukwu in search of #Biafrans to kill. @UKinNigeria, @USinNigeria is this what your military aid to Nigeria is for?"
This morning 12 Oct. 2020 Fulani @NGRPresident ordered their uniformed terrorists in @HQNigerianArmy to start their Operation Show of Force in my village Isiama-Afaraukwu in search of #Biafrans to kill. @UKinNigeria, @USinNigeria is this what your military aid to Nigeria is for? pic.twitter.com/xWrgYtdUjg

— Mazi Nnamdi Kanu (@MaziNnamdiKanu) October 12, 2020