#OndoDecides2020: Ondo Election Results From Different LGAs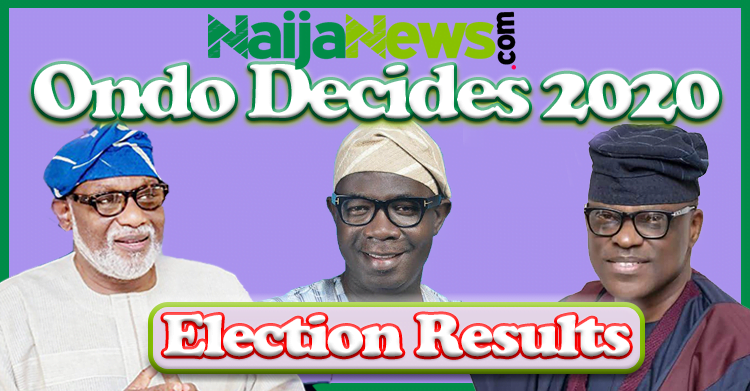 Ondo election results have started coming in from different LGAs in Ondo State, southwest Nigeria.
Naija News reports that the Independent National Electoral Commission (INEC) commenced the Ono governorship election at exactly 8 am on Saturday, October 10, amidst tight security.
The election is taking place in eighteen (18) Local Government Areas (LGAs) and two hundred and three (203) wards and  three thousand and nine (3,009) polling units in the states.
No fewer than 17 candidates are eying the Alagbaka Government House in Akure but of the 17, only three have been identified by political analysts as the top contenders for the Ondo governorship election.
The candidates seen as the main contenders for the number one political position in Ondo state are: the incumbent Governor Rotimi Akeredolu (SAN) of the ruling All Progressives Congress (APC), who is seeking re-election, Eyitayo Jegede(Peoples Democratic Party(PDP) and Deputy Governor Agboola Ajayi(Zenith Labour Party) who is trying to proof a point since he dumped his principal (Akeredolu) for the top job few months to the election.
According to INEC, the analysis of Permanent Voter Cards (PVC) collection across the councils shows voters' enthusiasm with 1,478, 460 cards collected represent 81 per cent of the 1,822, 346 total voter population.
Meanwhile, Akure South, which comprise of Akure city, has the highest number of PVC collection put at 207, 238. The lowest is Akoko Southeast, which has 32, 763. On the other hand, there are 343, 886 uncollected PVCs, representing 19.9 per cent of the total registered voters for rhe Ondo election.
Below is the Ondo Election Results from different LGAs… (REFRESH ALWAYS)
Akure South LGA:
Prof. Olufemi Adesina is Collation Officer.
APC: 17,277
PDP: 47,627
ZLP: 2,236
Registered: 286,641. Accredited: 69,961. Valid: 68,428. Rejected: 1,405. Total Cast: 69,833.
There were cases of cancelled polling units and this occurred in Osisi quarters Ward four and Ijomu/Oke Ijebu ward four.
There were cases of over voting in Ward four, unit 8. 303 accredited while total votes cast was 306 an excess of four. In Ward four, unit 010, total votes cast exceeded number on card reader.
No report on violence.
Akoko South East LGA:
APC: 9,419
PDP: 4,003
ZLP: 2,004
There are 11 registration areas. Registered: 35,709. Accredited: 15,956. Valid: 15,649. Rejected: 298. Total Cast: 15,947
No cancelled polling units or ballots.
Idanre LGA:
Prof. Fasasi Adeniyi is Collation Officer.
APC: 11,286
PDP: 7,499
ZLP: 3,623
There are 10 registration areas and 17 parties. Registered: 82,448. Accredited: 25,623. Valid:23,236. Rejected: 1,102. Total Cast: 24,338.
There were some cancellations. In ward 4, there were violence in some polling booths 009, 010,011,012 and 013. Officers there were forced to write report under duress.
In ward 6, 017, voting was prevented and 004 there was violence. Destruction of four polling booths in Ward four. Total cancelled votes 6,069.
Akure North LGA:
APC: 9,546
PDP: 12,263
ZLP: 1,046
There are 12 registration areas. Registered: 63,450. Accredited: 24,375. Valid: 23,528. Rejected: 810. Total cast: 24,338.
No cancellation in any unit.
Owo LGA:
APC: 35,957
PDP: 5,311
ZLP: 408
Registered: 128,448. Accredited: 44,634. Valid: 42,680. Rejected: 980. Total Cast: 43,660.
No cancellation.
Ondo East LGA:
Prof. Taiwo Olusegun served as Collation Officer.
There are 10 wards in the LGA.
APC: 6,485
PDP: 4,049
ZLP: 3,221
Registered: 50,495. Accredited: 14,952. Valid: 14,259. Rejected: 602. Total Cast: 14,861.
The Result of the election in Obada RA Unit 006 was cancelled because accreditation was done manually. Total number of voters there is 660. No people with disabilities there.
Akoko Southwest:
Prof. Isiaka Olalekan served as Collation Officer.
APC:21,232.
PDP 15,055.
ZLP: 2,775.
There are 15 registration areas. Registered: 101,842. Accredited: 41,307. Valid: 40,130. Rejected: 1,052.
Total cast: 41,182. No cancellation.
Akoko Northwest:
Prof. Segun Ogunbade is the Collation Officer.
APC: 15,809.
PDP: 10,320.
ZLP: 3,477.
There are 10 registration areas. Registered: 72,139. Accredited: 30,928. Valid: 30,247. Rejected: 607. Total cast: 30,854.
There were no cancelled polling units and no PWDs.
Ifedore LGA:
APC: 9,350,
PDP: 11,852.
ZLP: 1,863.
Registered voters: 75257. Accredited 24,441. Valid: 23,654. Rejected: 754. Total cast: 24,408. No cancellation. Elections held in all wards.
Ile-Oluji/Oke-Igbo LGA:
Collation Officer Prof. Felix Fabunmi.
APC: 13,278.
PDP: 9,231.
ZLP: 1,971.
Registration areas 10. Registered voters 72,841. Accredited 26,253. Valid: 25,208. Rejected: 1,037. Total Cast: 26,245.
Have a case of cancellation and it happened at unit 8, ward 5 as reported by the PO and RA. Cancelled because of over voting. Number displayed on card reader, 64 was far lower than accredited voters 164. PO was queried and he answered that the card reader malfunctioned. Consultations were made and resolved that votes be cancelled. Number of registered voters at polling unit 8, ward 5 was 210. We have a case with people with disabilities. Had about 50 of them in the LGA both female and male.
Irele LGA:
APC: 12,643.
PDP: 5,493.
ZLP: 5,904.
Registered 66959. Accredited 25819. Valid: 24,842. Rejected: 867. Total Cast: 25,709.
No cancellation and no one presented as physically challenged.
Akoko Northeast LGA:
APC: 16,572
PDP: 8,380
ZLP: 3,532
There are 13 registration areas. Registered: 80,040. Accredited: 30,409. Valid: 29,493. Rejected: 884. Total Cast: 30,377.
No cancellation. For PWD voters there were six visually impaired, five with physical disability. One speech impairment and one albinism totaling 15.