Live Updates: 2020 Ondo State Governorship Election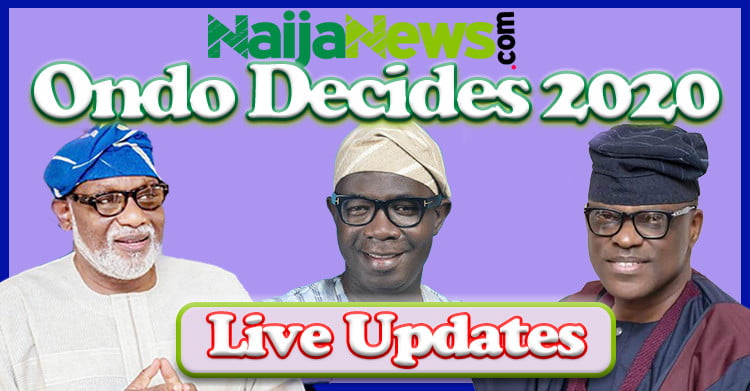 The 2020 Ondo State Governorship Election holds today 10th October 2020 as the people of Ondo get to decide that person and political party that will govern their state for the next four years.
Candidates and political parties have been transversing the length and breadth, nooks, and crannies of the state to convince the electorate to cast their votes for them.
Similarly, the Independent National Electoral Commission (INEC) has promised to deliver a free and fair election while security operatives have given assurances of total security before, during, and after the polls.
Though 17 candidates are vying for the number one seat in the state, the race is expected to be majorly between three candidates – incumbent Governor and candidate of the All Progressives Congress (APC), Rotimi Akeredolu, candidate of the Peoples Democratic Party (PDP), Eyitayo Jegede and Agboola Ajayi, incumbent Deputy Governor and candidate of the Zenith Labour Party (ZLP).
Interestingly, the three leading candidates are spread across the three senatorial zones in the state. Rotimi Akeredolu is from Ondo North, Eyitayo Jegede is from Ondo central while Agboola Ajayi is from Ondo south.
Kindly stick to Naija News and keep refreshing this page to get the latest updates in the 2020 Ondo State Governorship Election.
---
Sorting and counting of votes have started in some Polling Units. You can follow our live election result monitoring page for the latest developments as results trickle in.
2:18 PM: Voting has ended in many Polling Units and anyone who is not on the queue before 2:30 PM will not be allowed to vote INEC officials have declared.
1:35 PM: Voting has ended at Ward 6, PU 001 at Ifedore LGA, no voter left on the queue.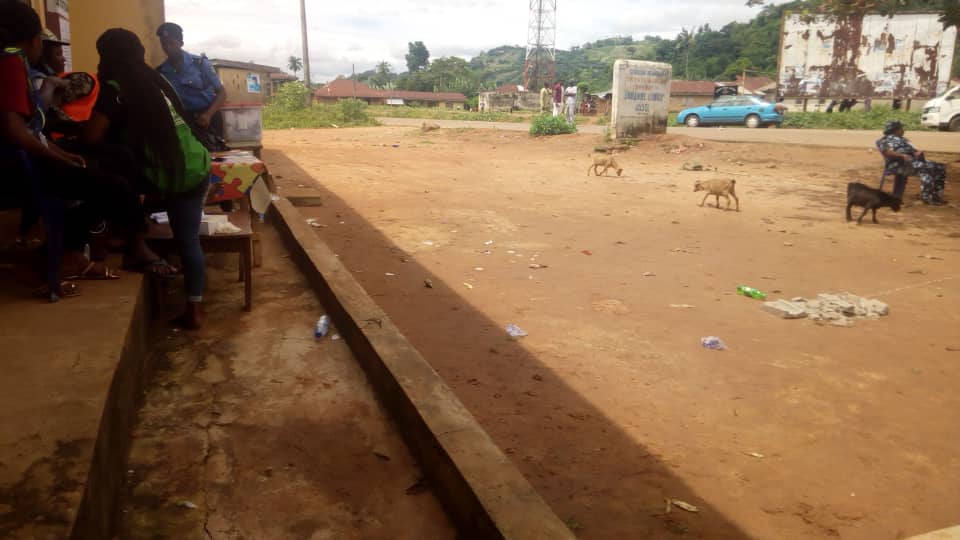 1:07 PM: Voters defy the rain and stay on queue to cast their votes at PU 05, Ward 7, Irele LGA.
12: 54 PM: Okitipupa LG, Ode Aye I. PU 003: Methodist primary school. Most of the voters have already cast their ballots and there are only a few people left.
12: 50 PM: Okitipupa LGA, Ward 05 PU 016, Surulere/Likinyo, open space at Surulere. Everywhere is now peaceful and only few people are left on the queue casting their votes.
12: 45 PM: Akoko South-East LG. Uba Junction RA 05 PU 04. The registered voters in the PU is 580. Only 288 of the registered voters is confirmed to have Voted, Hence officials await the other voters.
12: 44 PM: Ese Odo local government area, Ondo South. Apoi I, ward 1, Polling Unit 011 (R.C.M SCH OJUALA). Accreditation and voting is ongoing. Voters are not observing covid-19 guidelines.
12: 30 PM: Large turn out of voters but lots of complaints about card reader failure at PU9, Ward 1, Akoko North West LGA.
12:17 PM: Betty, wife of Governor Akeredolu debunks rumours or her being attacked after casting her vote. Video in circulation discovered to be old and doctored.
11:57 AM: All voters on ground have cast their vote at PU 09 at Mariwo ward, Ifedore LGA, while INEC officials await more electorates.
11:01 AM: Card reader fails to read Jegede, wive's fingerprints. Their daughter however has been able to vote. The PDP candidate and his wife were however later able to vote after waiting in line for about two hours.
10:53 AM: Boat carrying INEC officials, election materials capsizes. No casualty recorded. Get details here.
10:20 AM: Ad-hoc staff at Ifedore LGA, Ward 6, PU 1 forced to relocate the polling unit due to rainfall which started around 9:34AM. Voting is yet to recommence.
9:38 AM – Governor Rotimi Akeredolu, wife arrive polling unit of Owo, ward 5, Unit 6. The Governor and his wife have been given priority and have cast their votes.
9:22 AM – Shooting reported at Pollíng Unit 11, Edo Lodge in Oke Ijebu, Akure.
9:17 AM – The Governorship candidate of the Peoples Democratic Party in the Ondo State governorship election, Eyitayo Jegede, has arrived at his polling unit.
The former Attorney-General of the state arrived at the Sacred Heart Pry School, Ward 2, Polling Unit 1 around 9:15 am.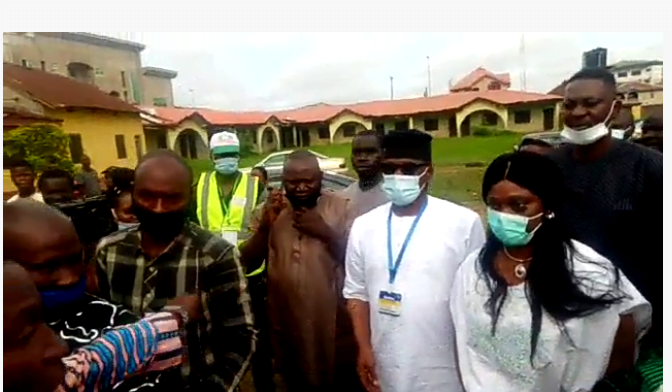 08:54 AM – Voter turn out in many polling units is impressive but it was observed that social distancing was not observed.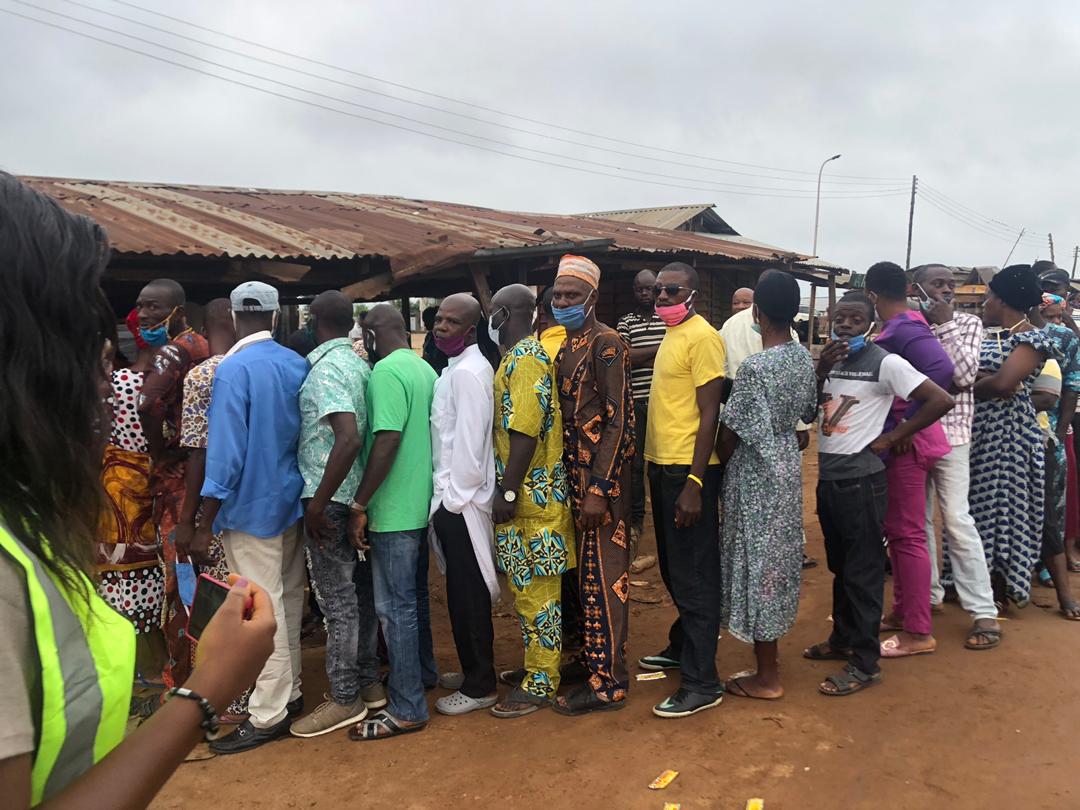 08:45 AM – ZLP candidate, Agboola Ajayi debunks report of pulling out of governorship race. Read the details here.
08:40 AM – Voter accreditation begins at PU: 009, Registration Area: 2, Sacred Heart Primary School, Akure South – Eyitayo Jegede, the PDP candidate's polling unit.
08:14AM – Akoko North West ward 08 PU:001. Card reader is not working, voters are asked to use their registration number. Most voters can not remember their registration number. Tempers are rising.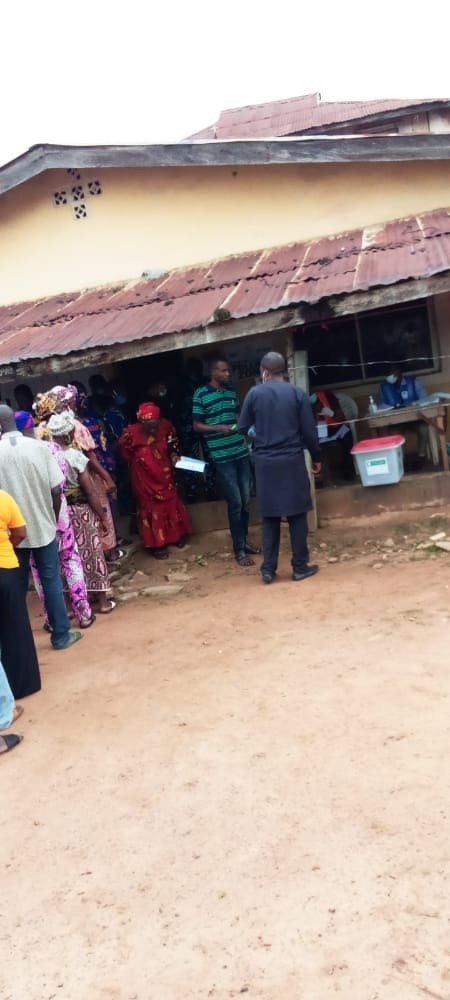 08:10AM – Team Akoko North West Arigidi 2 PU 010 Ward 02 Voting materials are being set up. People are waiting to vote. There are two security officers present.
08:01AM –Akoko Southwest LGA, Ward 07 Oka PU 005. Voters are already on queue ready to vote. There is a policy of No nose-mask, no voting. Social distancing is not maintained at all.
08:00AM – Akoko North East Ward: 13 PU 005 (Local Council Chairman's PU). INEC
officials are around and preparation is still on-going.
7:58AM – Owo LGA Ward 05 (Ijebu 11) PU: 006 Voters Going Through The Voters List To Check For Their Names. A Light Rain Has Restricted Other Prospective Voters From Coming To The Polling Unit
7:55AM – Akoko South West LGA 04 Ward 09 Ikun PU 003 Ikun III, Holy Trinity Primary School Voters have begun to form a queue at the polling unit and are awaiting the start of the voting process.
7:53AM – Akoko North east Arigidi ward 1, Unit 04. Voting is yet to begin. INEC
officials are sharing nose masks to security operatives. Voters are checking their names on the list.
7:46 AM – Ose LGA Ward 10 PU 02 Imoru. INEC
officials, Corp members and Security agents are waiting for rain to stop so the election can begin. Every material needed for the election is set.
7:41 AM – Akoko Southwest LG Akungba ii ward 2 PU 002 (AC/CAC UNITED Primary School) Voting is yet to commence. A number security officers present on ground.
7:40 AM – Akoko North East Ward: 13 PU 002 Some personnel are on ground but the unit is not at full preparedness. PO 1 is not on sight but assistant PO is available.
7:33 AM – Ileoluji/Oke-Igbo Ondo Central SD, Ward 1, PU 001 Potential voters are checking the pasted voter lists. There is little compliance with COVID-19 rules. 2 security officers were seen at the unit. INEC 
officials are seen setting up their stands.
7:25 AM – Akoko South West, Ward 5, PU 14, Iworin II. INEC officials on ground.
7:20 AM – At Ward 9 (Ọba-Ilẹ̀) , PU 11 of Àkúré North LGA, as INEC officials set up voting materials as electorates check for their names on the voter's register.
7:18 AM – Ward 09 (Oba Ile), PU 008 of Akure North LGA. Voters are checking the list for their names as INEC officials are setting up electoral materials for the day.
7:16 AM – Ondo East Bolorunduro ward 3 PU 1, market/Ekimogun high school INEC officials has posted the list of registered voters and voters are seen checking out their names.
7:15 AM– At Ward 9 (Ọba-Ilẹ̀) , PU 10 of Àkúré North LGA, everything has been set as INEC officials await the commencement of voting proper.
6:55 AM – Ward 9 (Ọba-Ilẹ̀), PU 9 of Àkúré North LGA,INEC officials are pasting the voters registry and setting up materials for the day. 4 security officials (police officers) are present.
6:50 AM –  Ward 9, PU 7 Àkúré North LGA,INEC officials are pasting the voters register and setting up materials. 4 security officials are present – 3 police officers and a civil defense corp.
6:47 AM – In ward 9, PU 6 of Akure North LGA,INEC officials have began setting up for voting materials. There are six policemen at the polling unit.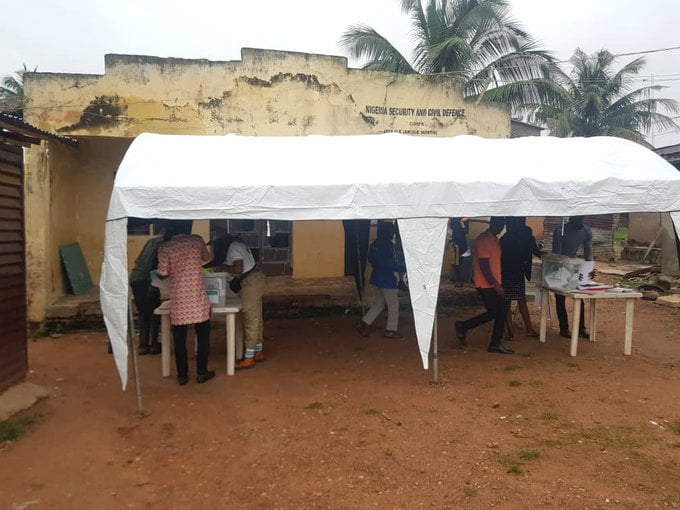 6:31 AM – Ose LGA. INEC officials seen at St Anglican primary school moving some materials to their polling units. Officials were seen moving materials to their area of deployment.