Buhari: Atiku Raises Disturbing Issues Over 2021 Proposed Budget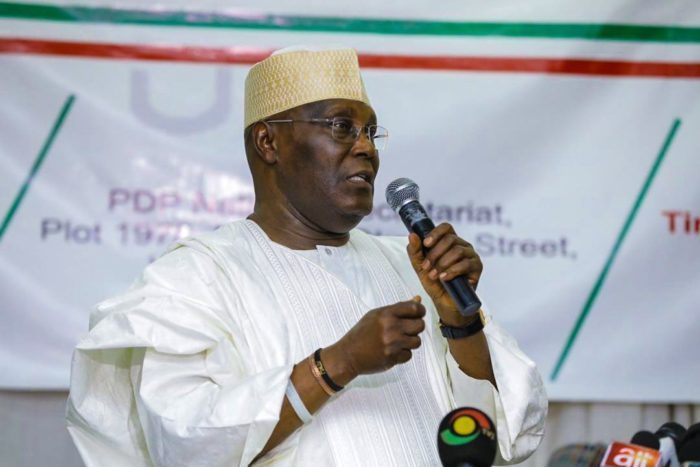 Former Vice President Atiku Abubakar has condemned the 2021 proposed budget presented to the National Assembly by President Muhammadu Buhari.
Naija News recall that President Buhari on Thursday  presented a N13.08 trillion 2021 Appropriation Bill before a joint session of the National Assembly for consideration and approval on Thursday, October 8.
President Buhari said during the budget presentation that the 2021 Appropriation has been themed the "Budget of Economic Recovery and Resilience" in "view of the many challenges confronting us, we must accelerate our economic recovery process, promote social inclusion and strengthen the resilience of the economy."
According to the President, the 2021 budget is expected to "accelerate the pace of our economic recovery, promote economic diversification, enhance competitiveness and ensure social inclusion."
The President said: "The 2021 – 2023 Medium Term Expenditure Framework and Fiscal Strategy Paper set out the parameters for the 2021 Budget, which include:
a. Benchmark oil price of 40 US Dollars per barrel;
b. Daily oil production estimate of 1.86 million barrels (inclusive of Condensates of 300,000 to 400,000 barrels per day);
c. Exchange rate of N379 per US Dollar; and
d. GDP growth projected at 3.0 percent and inflation closing at 11.95 percent."
But reacting in a statement he personally signed on Friday, Atiku said 2021 budget proposal contravened the Fiscal Responsibility Act.
The former presidential candidate of the Peoples Democratic Party (PDP) stressed that the N5.21 trillion budget deficit amounted to over 3.5 per cent of Nigeria's 2019 Gross Domestic Product, GDP.
Atiku said: "Looking at the 2021 budget proposal placed before the National Assembly by President Muhammadu Buhari on Thursday, October 8, 2020, a number of issues, very grave and perhaps disturbing issues arise.
"This is contrary to the Fiscal Responsibility Act of 2007, which provides in Part II, Section 12, subsection 1 that: 'Aggregate Expenditure and the Aggregate amount appropriated by the National Assembly for each financial year shall not be more than the estimated aggregate revenue plus a deficit, not exceeding three per cent of the estimated Gross Domestic Product or any sustainable percentage as may be determined by the national Assembly for each financial year."
Download NAIJA NEWS app: