Nigerians React To Bola Tinubu's 'Multi-Billion Alpha-Beta Fraud'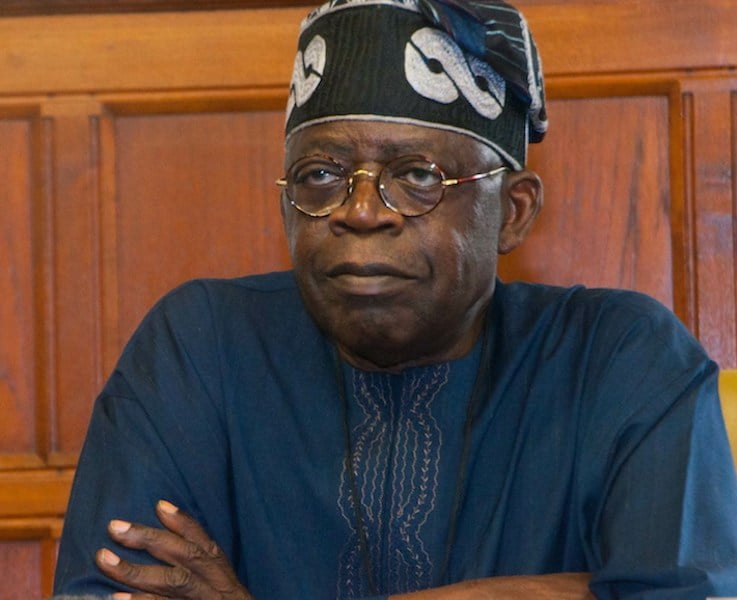 A storm of reactions by Nigerians has greeted court documents relating to litigation involving former Lagos governor, Bola Tinubu, where it revealed how Vintage Press, publishers of The Nation newspaper, reportedly received N1 billion alongside two other printing firms.
A report on monitored on The Peoples Gazette by Naija News said Dapo Apara who filed a statement of claim recently at the Lagos State High Court, described how funds were moved in apparent money laundering from Alpha-Beta Consulting to businesses and individuals allegedly linked to Tinubu.
Alpha-Beta Consulting, Naija News understands is a company that was previously a contractor to the Lagos government and managed the state's internally generated revenue in exchange for a commission.
Apara was among the earliest executives of Alpha-Beta Consulting. The firm has been accused of being a conduit that channels Lagos public funds into Tinubu's political empire.
Alpha Beta illicitly transferred N1 billion to the company that publishes The Nation, and two other printing companies namely Afkar Printing Press and Lagoon Press Limited in 2017, Apara claimed in his statement.
However, the document presented, did not clarify the stated purposes of the N1 billion suspicious transfer or how much of it went to The Nation, a newspaper, Tinubu is widely adjudged as the owner, a claim neither he nor the company has denied after years of being in circulation.
In his statement of claim,  Apara described Tinubu as a "controlling interest" in Alpha Beta Limited who hid his connection with Alpha Beta from the public.
A writ on October 2 that circulated alongside the 40-page court documents which has gone viral, says Tinubu and Alpha-Beta must enter a defence in the matter within the next 42 days.
Meanwhile, Apara's court filings is coming months after he accused Tinubu, who is the National Leader of the All Progressives Congress (APC), Nigeria's ruling party, of easing him out of the company he founded.
Apara submitted a cornucopia of corruption allegations against Tinubu at the EFCC, which has failed to expedite its probe into the matter.
Displeased with the development, Nigerians took to the micro-blogging site, Twitter to air their opinions.
Naija News captured some of the reactions below…
Tinubu is about to go down, they will use everything they have against him.

The speaker of Lagos State assembly is currently at the EFCC.

The fight is becoming more interesting ??

— Emma ik Umeh (Tcee )?? (@emmaikumeh) October 8, 2020
Boy this lawsuit by Mr Oladapo Apara of Infiniti Systems Enterprises looks that the key we have all me finding to unlock Bola Tinubu's alleged highly fortified business fronts.

Ọmọ! This affidavit is filled with juice! ??.

Watch out for the full story on @PremiumTimesng

— Nicholas Ibekwe (@nicholasibekwe) October 8, 2020
Alpha Beta and Tinubu are on the chopping board. 2023 will be lit. Notice the mention of Yemi Osinbajo in the court processes. It's not mere coincidence. In this country, stuff like that are well calculated and executed. https://t.co/sCigMLdDXA

— #IgboMade! (@OdogwuOgbete) October 8, 2020
1% of 400 billion = N4 billion.
10% of 400 billion = 40 billion

Whichever one that is true, It is important we get rid of this man & all his political associates in Lagos

Tinubu boasted that Magu would protect him, says Alpha Beta ex-MD https://t.co/3tb3QBDNS6 via @MobilePunch

— Dokun Ojomo (@DokunOjomo) October 8, 2020
Tinubu after receiving the court papers.pic.twitter.com/qFWdOVz5zI

— Premier (@SodiqTade) October 8, 2020
I think the real wonder is that Tinubu actually believes that Buhari will ever hand over to him.

He should look at what they did to Oshiomole, and advise himself well. https://t.co/IU1HeX5HnR

— Ose Anenih (@ose_anenih) October 8, 2020
BMC Comrades were gloating over Atiku news few days ago. They were so in love with Premium Times that they shared the link of Atiku's 'scandal' everywhere. Now it is Tinubu turn dem dey disguise. Different strokes for different folks.

— Premier (@SodiqTade) October 8, 2020
Check the timeline of events on Tinubu's Alpha Beta Tax evasion saga. It's not today.

Oh well, let me know when he's finally sanctioned or jailed for Tax evasion.

For me, it isn't worth my time. pic.twitter.com/XcLJUBybTS

— Maybeks (@MayUbeku) October 8, 2020
According to Alpha Beta's former MD, Alpha Beta( Tinubu's fat cow) has received over 150bn in commission alone from Lagos state purse since 2010

Dear Lagosians! When will this slavery end?

— DEMAGOGUE PhD.?senior advocat? (@von_Bismack) October 8, 2020
BREAKING: EFCC secures Court order to freeze 3 bank accounts belonging to Lagos Assembly Speaker, Obasa.#ObasaGate ? The hit is coming from every angle Tinubu not left out. The end is near.

— Ayemojubar ? (@ayemojubar) October 8, 2020
APC southern assembly people will hopefully learn hard lessons from what is about to happen to Tinubu…since they have refused to learn from the past.

— Babasola Kuti (@RealSolaKuti) October 8, 2020