Nigerians React As Police Officer Obioma O. Obi Assaults Unarmed #EndSARS Protesters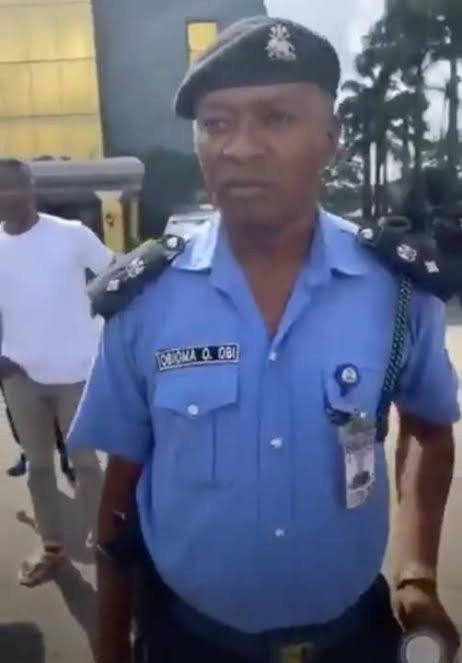 A storm of reactions by Nigerians has greeted a video of Obioma O. Obi, an officer of the Nigeria Police Force (NPF) caught on camera assaulting unarmed #EndSARS protesters.
Naija News had reported earlier that Nigerians trooped out en-mass to protest against police brutality in the country which has led to the deaths of young Nigerians in recent times.
Nigerians demanded among others, the proscription of the Federal Special Anti-Robbery Squad (FSARS), a unit of the Nigerian Police Force (NPF) during the protest today. In the Lagos, Nigerian musicians, Falz and Runtown led the protest which could be described as peaceful.
However, the reverse was the case in Imo State, Owerri to be precise as a police officer, Obioma O. Obi, who has been identified as the DPO of Orji Police Station was caught on camera assaulting protesters.
It was learned that the chaos occurred when #EndSARS protesters stormed Orji Police Station in Owerri in a bid to send the #EndSARS message but the protest was intercepted by the police.
While at the police station, it was gathered, that the DPO of Orji Police Station, Obioma O. Obi, came out to address the protesters and during his address, the police officer reportedly told the protesters to go back home adding that the government will see to their plight, but the protesters refused to acknowledge his call.
Naija News learned that the #EndSARS protest became violent when the protesters used unpleasant words on the DPO and in turn, the police officer who was apparently displeased with the utterances, punched a protester and furiously brought out his service pistol and threatened to shoot all the protesters if they do not leave the station.
Displeased with the attack on the unarmed citizen, Nigerians took to the micro-blogging site, Twitter to berate police officer Obi.
Naija News captured some pof the reactions below…
The girl that was assaulted by
Obioma O. Obi happens to be my friend….and that man is the DPO of Orji Police station here in Owerri.
He punched her in the face before cocking a loaded pistol.
Look at the animal in charge of the polices…SACK THE MF!!? pic.twitter.com/nOICnIJxjM

— Davido's First Son (@UkwuBright) October 8, 2020
I saw that video of a @PoliceNG officer named Obioma O. Obi where he pulled out a gun to shoot at peaceful protester in front of the Camera at the #EndSarsProtests Owerri.

Now imagine what these men do where there are no cameras! And he's a Chief Superintendent of Police (CSP)!

— Wale Adetona (@iSlimfit) October 8, 2020
Obioma O. Obi assaulted and wanted to shoot protesters in Imo state as against what IGP mandated.
Some people cannot be fixed, you have to cast them out.

It's on record now @PoliceNG @PoliceNG_CRU#EndSARSProtest #EndSARSpic.twitter.com/m7S9XuMbcr

— Ayemojubar ? (@ayemojubar) October 8, 2020
The promises of the Inspector General of Police are empty until acts like this become near impossible. If Obioma O. Obi of @PoliceNG holds on to his job until end of day tomorrow, then it confirms what we know — everything the Nigerian government promised on #EndSARS is a lie! https://t.co/OOJgpERYMg

— 'Gbénga Ṣẹ̀san (@gbengasesan) October 8, 2020
Here we have live footage of an officer of the NPF, Obioma O. Obi pulling a loaded weapon on an unarmed protester. If this isn't further evidence of all that's wrong wit this country, I don't know what is. https://t.co/ssZJ7svOLZ

— Alex (@tytypicasso) October 8, 2020
See this blood thirsty Neanderthal, Na government give police power, him Dey forget say na tailor see the uniform.

Let their reform start from Obioma O. Obi for assaulting and pulling a weapon on peaceful protesters. pic.twitter.com/1EgnI6Z3Ps

— Pastor Ola ✨ (@Biisi96) October 8, 2020
Let it be put under record that officer Obioma O. Obi of the NPF @PoliceNG assaulted and pulled a loaded weapon on peaceful protesters, Let the reform start from this video #EndSars #EndSARSBrutality #EndSarsProtests pic.twitter.com/kws9pEHCT2

— Uwa Bunkoye, NBA.➐ (@realuweez) October 8, 2020
Source: Naija News