#ENDSARS Protest Commences In Lagos, To Last For Three Days – [See Protesters Demand]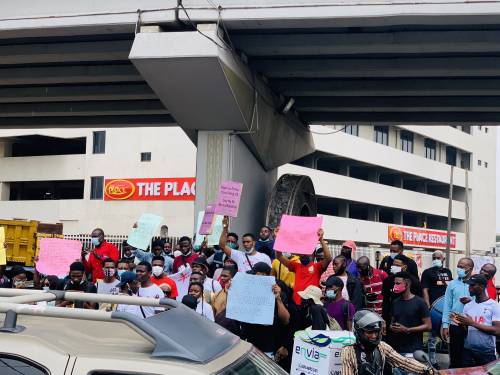 In a bid to push for the reform of the Nigeria Police Force system, some citizens in part of Lagos State have decided to go on a three-day protest to call for the scrapping of the Special Anti-Robbery Squad of the Nigeria Police Force.
Naija News understands that there has been an outcry by Nigerians over what is termed as extra-judicial killings and unlawful activities by the SARS operatives.
According to the protesters when interview, the exercise will commence from Wednesday (today) through Friday, October 9 with a march to the Force Headquarters, Ikeja, Lagos, as well as the Lagos State Government House.
Stating their demands to the Nigerian government and the Police Force during the exercise, the protesters said they demand the "transparent prosecution of all officers involved in extra-judicial activities, justice for victims of extra-judicial activities as well as the call for the police to have a list of officers that have been found culpable of extra-judicial activities."
Their demands also include "public enquiry on the activities of the unit in the past one year, compensation to be given to verifiable victims both dead and alive, tags on all policemen with names and job details, no police officer should be found in civil wear while on duty with a gun, police should stop going around in unidentifiable cars or buses and digital mediums for tracking cases with the police."
Meanwhile, a video that is going viral has emerged on the internet showing a man beat up an officer of the Special Anti-Robbery Squad (SARS) on the road in broad daylight.
Source: Naija News