Shock As NDLEA Uncovers Community With Cannabis As Source Of Livelihood
In what was described as a shock, the operatives of National Drug Law Enforcement Agency (NDLEA) have busted a cannabis sativa farms worth over N1.5 billion in Kogi state.
The farm said to be located at Agba-Okete community in Igalamela-Adolu Local Government Area of Kogi, was destroyed by operatives of the NDLEA.
Speaking on the incident, Kogi Commander of the NDLEA, Mr Alfred Adewunmi noted that he was really shocked when they discovered the place.
He noted that they stormed Kara forest with 80 NDLEA personnel, and men of the Nigeria Security and Civil Defence Corps (NSCDC).
Mr Adewunmi said an entire community in the Eastern part of the state where cannabis cultivation is their major source of livelihood was discovered.
He said "I tell you that I am really perplexed, and shocked that something as huge and enormous as this can be discovered in Kogi State.
He said they had assumed that Kogi State, even though surrounded by some States that are notorious in Cannabis Sativa cultivation, was simply a transit point because of the strategic location of the State.
"However, to discover that within Kogi State we can have a plantation of this huge proportion is something that I must tell you has shocked me to my bone marrow.
Adewunmi explained that the place isnt just a farmland, but a very big plantation of Cannabis Sativa.
". All of you have been in my entourage and we have walked within farms which is over four kilometers and are still within the farm. We started this operation since 10 in the morning.
"It is about 5:55pm. To begin to describe what I have seen today is to simply tell you that it will be a great deception to tell you that Kogi state is not being used as a place were cannabis sativa is cultivated.
He wondered how a whole community would choose no other means of livelihood but cultivation of cannabis.
"How will a whole community be cultivating cannabis sativa? Are we saying there is no legitimate business out there that would fetch them income? They dedicated about 4KM of their arable land to the cultivation of cannabis sativa. It is indeed worrisome and alarming. 
"We have to muster five times the resources we have deployed today to achieve this great task. Here we have more than 80 officers of NDLEA, NSCDC, and to ensure that this over 40 hectares of cannabis farms land is totally destroyed"
According to Adewunmi a prime suspect and owner of one of the farms, Ameh Joseph has been arrested and would be charged to court soon.
 He added that they have intensified effort to arrest owners of the other cannabis farms.
Ameh who admitted being the owner of a section of the farm, said he ventured into cannabis sativa farming as a result of economic hardship. He also recalled being employed as a farm manager in charge of cannabis Sativa at Ogbese in Ondo State in 1995 with a yearly salary of between N85, 000 and N100,000.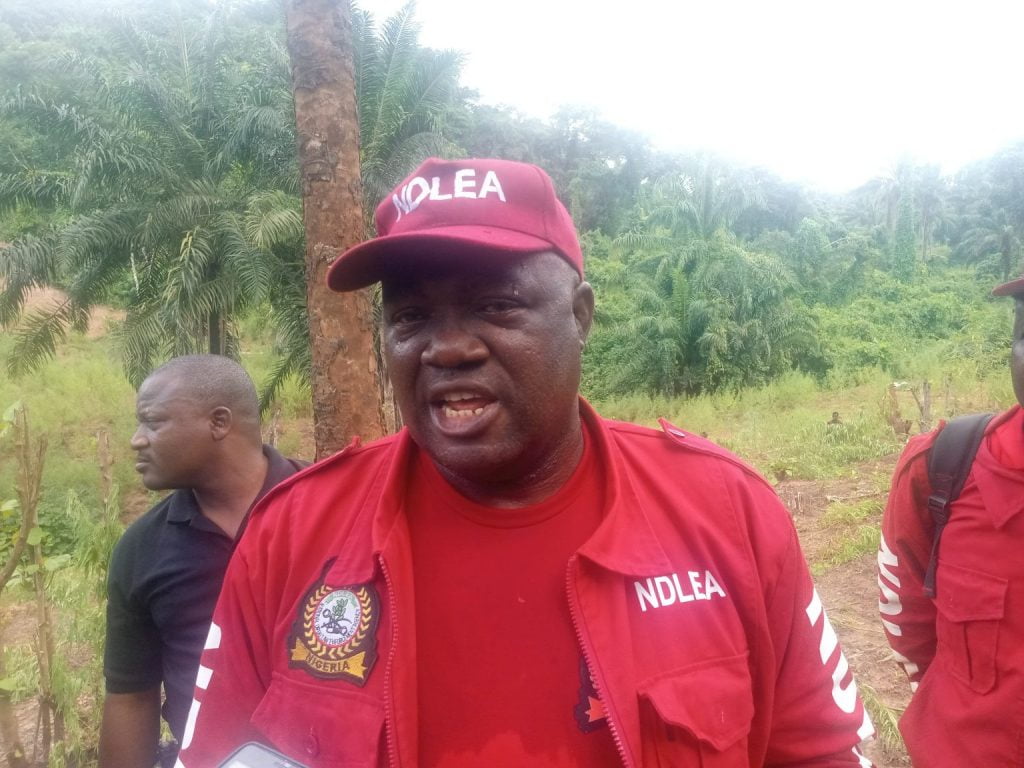 Download NAIJA NEWS app: