Husband Of Kano Woman Who Killed Her Own Children Speaks Out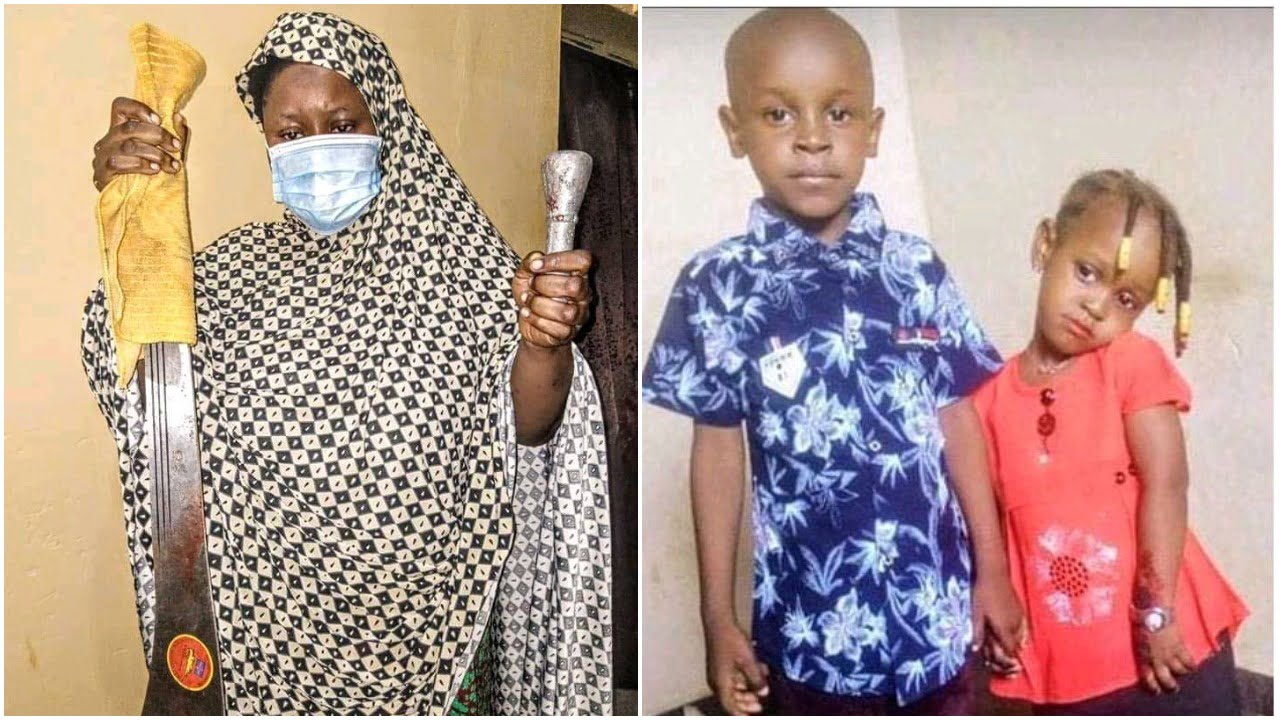 The husband of Hajia Hauwa Abdullah, the woman accused of killing her own biological children due to jealousy has spoken on his own side of the story.
It will be recalled that Hajia Abdullah allegedly stabbed her own children – five-year-old son, Yusuf Ibrahim, and his three-year-old sister Zahra'u Ibrahim to death on Saturday night. She also reportedly injured her 10 year- old relative, Aisha Sadiq.
The incident is said to have happened at their residence in the Sagagi Layin Yan Rariyaat area, Diso Quarters, Gwale LGA, Kano State. The housewife reportedly killed the children because her husband, Ibrahim Haruna Aminu, 39, married a second wife.
Explaining his own side of the story, the husband who was away when the sad incident occurred, has disclosed that the woman was 'possessed.'
In an audio recording obtained by Arewa Agenda, "the husband said that the suspect had called him in the morning at exactly 9:55am and told him that some people had come to kill her. When he asked who were the killers, she said they were two males and one female. When he sought to know where his children were, she told him it was the children who wanted to kill her."
"So, I urged her to intensify prayers because the previous night I sensed that her interactions were abnormal, as if she was somehow possessed as she was saying strange things. I promised to be with her when the rain stopped. Five minutes later she called again that the children wanted to speak with me. I spoke to all of them as they requested for some sweet which I asked her to give them.
Mr. Ibrahim narrated that when he got home, he was greeted with silence, which made him to use his own key to unlock the door, after which he saw his children laying in a pool of their own blood.
The surviving child (who was also injured) told him that their mother killed the two children with matchet and fled after she locked the door.
"So I quickly went to my parents and informed them, took the victims to the hospital while I rushed to my in-law's place. On getting there I met my wife and her mother in the room discussing. When I narrated what happened, her mother started crying while my wife was asking me what was happening?"
When asked why he thought his wife did what she did, Ibrahim simply replied, "She is possessed. A normal woman would not just hack her own children to death for no reason."
When asked, he added that the wife had not previously shown any suspicious behaviour linked with what she did.
"Not at all. Only that a day before the incidence since when I went to give her money for food stuff she held my cloth and kept asking if I was okay, I asked why she was asking such questions, she said nothing, just that she is seeing things but she doesn't know what they were. I then calmed her down and assured her I would come over the following morning since I was going to sleep at my second wife's place."
Meanwhile, as previously reported by Naija News, the woman has explained that she wasn't in her right senses when the incident happened.
She told the police in her statement after she was arrested that she can't remember killing her own children.
"I saw my two children Zuhra and Yusuf attacking me with a knife or something." "I called my husband and told him what was happening, but he didn't believe me," she stated as quoted by a Police source.
"So I locked the house and escaped to my mother's house for safety" she added in her own account of what transpired.
The case has been transferred to the State Criminal Investigations Department (SCID) for investigation, the police spokesperson in Kano, Abdullahi Haruna confirmed in a statement.
Download NAIJA NEWS app: