Nigerians Reacts As FFK Reveals He Caught His Wife Sleeping With A Married Man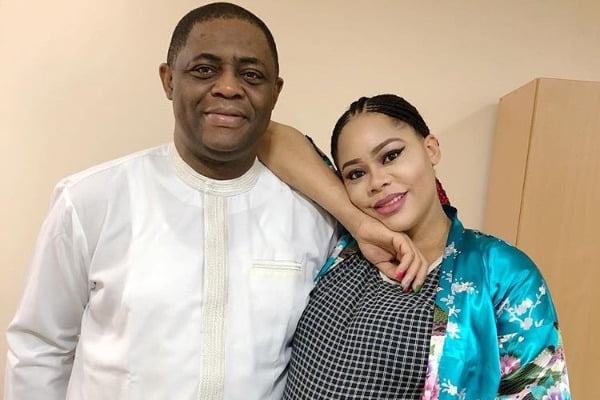 Peoples Democratic Party chieftain, Femi Fani-Kayode and his estranged wife have been in the news once again over their marriage which has gradually turned sour.
Earlier Naija News Reported that a video was spotted online showing the former minister's wife shouting at him to stop abusing her.
Fani-Kayode, has reacted to the video making rounds online where he allegedly abused his wife, Precious.
The Peoples Democratic Party chieftain who was reported to have broken up with his wife noted that the video trending online is propaganda.
Fani-Kayode in his statement noted that there was no physical abuse, he added that he collected the phone from his wife to stop her from recording him after he caught her in bed with a married man.
Nigerians have taken to Twitter to react to the development.
See reactions below:
Will a woman be caught in bed with another man and yet have effrontery to tell the husband to stop abusing her? And more so, he's been abusing her longer and why would she record if she was guilty? Has she no point to prove with the recording? Just reason it well

— Lovechild ? (@Olufcrown) October 3, 2020
In as much as we want to believe what you said, in the video she was heard saying "you keep abusing me". FFK, you are a public figure and a lot of people look up to you, the least we ask of you, is retrace your step and start acting as a descent and honorable person.

— Rothschild (@timi_wakanda) October 3, 2020
Do you want to tell me that you believe a Nigerian man with status as FFK found his wife cheating and he didn't do anything. And the girl wasn't begging, haba

— ogegreen (@ogegreen) October 3, 2020
The same wife you praise to the high heavens on this platform. Jeez

— DEMAGOGUE PhD.?senior advocat? (@von_Bismack) October 3, 2020
The same wife you praise to the high heavens on this platform. Jeez

— DEMAGOGUE PhD.?senior advocat? (@von_Bismack) October 3, 2020
read one of the other wife interview, apparently she was sleeping around.

— Iyanuoluwa (@omobabaijebu101) October 3, 2020
U caught her in bed with another man and never bothered to record her. And now u are trying to stop her from recording u even when you are doing nothing wrong. Chai bro Femi…..

— kelechiadiri1 (@Johncally29) October 3, 2020
As a public figure , FFK want to bury d issue but very painful .

— AdeoyeAdeniyi (@AdeoyeA02204727) October 3, 2020
They should collect phone from this man. How can Elder be this flawed.

— SIJUTAY (@ShineSeeju) October 3, 2020
You ain't lied!

— Pava_Turk ???? (@PavaTurk) October 3, 2020
The video is apparently a mere set up. She recorded because she had motives. We can read in between the lines. I am appalled Sahara picked it as a news PIECE.
I still insist FFK be left alone to handle his business.
Is Sowore "synergizing in propaganda" with FFK'S Ex- Wife? Sad.

— Kenneth Oboh, FABSEN (@ken_oboh) October 3, 2020
I need someone to help me. How can a woman caught in bed with another man be busy recording?

— Emeka J. Ogbu (@EmekaJOgbu1) October 3, 2020
Caught a few days ago ooo. I should say allegedly caught because there are two sides to every story and no be pessin wey first report crime dey always win.

— amaechi nsofor (@amaechi1234) October 3, 2020
I have actually listened to the video and there was no any form of harrassment in what you said to her.

Rumor peddlers should go and hug transformer.

— ZECHARIAH 8 : 20-23 (@Ozac6) October 3, 2020
She just stopped recording as he was trying to cuddle her abi??? just wish your own sister the same treatment if you know you are sayi g the truth…

— K.dIsco (@Inglewood237) October 3, 2020
She just stopped recording as he was trying to cuddle her abi??? just wish your own sister the same treatment if you know you are sayi g the truth…

— K.dIsco (@Inglewood237) October 3, 2020
I dont pry into people's personal lives, he who wears the shoe knows exactly where it pinches. God sees everything

— Okuma Augusta Brenda fruitfitqueen (@ajebobrenda) October 3, 2020
You mean you actually caught her in bed with another man? Were they acting Nollywood movie? I can't really believe this. If this truly happened, i just have to reserve my comment because i know how sad it is.

Dear married women, not all that glitters are gold. ????

— Be Still And Know That I Am God ?? (@Greenaetion) October 3, 2020
As much as I could feel your pain, I could not imagine letting issue like this be on this bird app. Am not surprised thou since you talk like master of all matters but you could not control your home.

— brainwave……zacceious (@jbzacceious) October 3, 2020