How Our Roads Have Become Death Traps – SouthEast Residents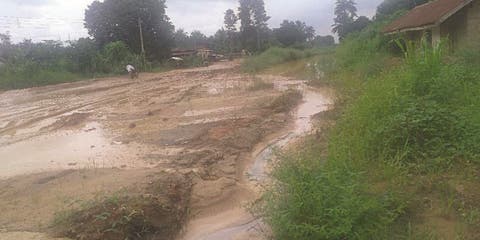 Reports reaching us has described the state of federal roads in the South- East as deplorable, as they have indeed become death traps, and many have now been abandoned.
It was learnt also that the state roads in the axis are nothing to write home about.
Despite that the Federal Government awarded contracts for two major roads in the zone, the Enugu-Awka-Onitsha road and the Enugu-Okigwe-Umuahia-Aba, work on the roads, especially the Enugu-Onitsha is not commendable.
However, the level of work on the Enugu-Okigwe-Umuahia is commendable.
What has been causing delay in the Umuchieze to Enugu axis is the cattle market at Lokpanta.
It was learnt that the Northern cattle traders constitute nuisance there by parking their trucks on the two lanes of the road.
However,  it is expected that with the ongoing construction of two large trailer parks at the market, there is hope.
With the parks being put in place, work has already commenced from the Umuchieze axis to Enugu.
However, the Okigwe-Owerri roads, Umuahia-Owerri and Aba-Ikot Ekpene road could rightly be described as the worst.
Many Communities have described how terrible this roads are, crying that the federal and state governments should urgently fix the road.
The communities: Ehere, Ukpakiri, Ohanze, Umuokpo, Onicha Ngwa, Nlagu, all in Obingwa Local Government Area have been cut off from Aba, their major market on account of the state of the road.
Over 2,000 business men and women who have their businesses operating along the road have since closed shop as motorists no longer ply the road.
The Minister of Works and Housing, Mr Babatunde Fashola, had paid several visits to the Aba-Ikot Ekpene road.
Rehabilitation works commenced at a stage on the Umuokpo-Amairinabuo stretch, however the construction firm abandoned the job, perhaps due to lack of funds.
Speaking with South-East Voice, Eze-Elect of Umuokpo Amairinabuo autonomous community in Obingwa Council, Chief Micah Ohajuru, declared was no longer able to access Aba town or Ikot Ekpene in Akwa Ibom State due to the dilapidated state of the Aba-Ikot Ekpene highway.
"The poor state of the Aba-Ikot Ekpene highway has caused untold suffering as some of them have been cut off from their neighbours. We can't access the Nigerian Christian Hospital at Nlagu, which is the major health institution in my area.
"Now, they have closed shop because the Federal Government refused to rehabilitate the road. Our people are suffering; the Federal Government should do the needful. We can no longer access Aba town or Ikot Ekpene in Akwa Ibom State," the monarch lamented.
Source: Naija News