NLC, TUC Are Enemies Of The Masses – Nigerians React To Strike Suspension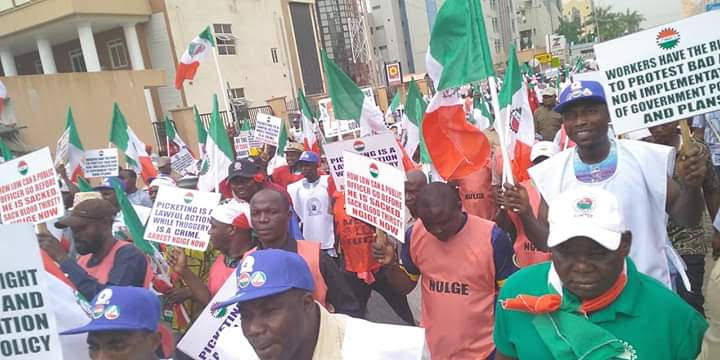 The Nigeria Labour Congress, NLC, following its suspension of the planned nationwide strike over the increase in petrol and electricity tariff has come under attack by citizens who believed the alleged agreement between the union and the federal government is deceitful and insalubrious.
Naija News reports that the NLC and TUC agreed to suspend the strike on Monday morning, September 28 after meeting with the federal government.
According to the Minister of Labour and Employment (State), Festus Keyamo, the new agreement reached between the FG and the two unions involves the suspension of the new electricity tariff hike for two weeks.
However, the suspension of the planned strike has caused a barrage of reactions among Nigerians on social media, who accused the NLC leadership of calling off the strike for 'brown envelopes' rather than for the good of masses.
Reacting to the development, a social media user identified as @DrBlack_symp share a copy of the signed agreement between the labour groups and the FG. He tweeted; "Brown envelopes collecters in action"
See the tweet below;
Brown envelopes collecters in action #NLCStrike pic.twitter.com/A6FGHaJktt

— Symposium with Dr Black. (@DrBlack_symp) September 28, 2020
Lamenting on Dear suspended strike action, a user of the bird app, @linusomadu accused the NLC of toying with the trust of Nigerians who believed the strike action would bring about good change. He tweeted: "@NLCHeadquarters
chairman, the only opportunity you had to inscribe your name on the hearts of Nigerians and on the sky, you misused it. Opportunity they said, comes but once. You failed Nigerians".
"Labour suspends strike after reaching an agreement with FG overnight! No surprises. My own is, of all the demands, FG only suspended the increase in electricity tariffs for 2 weeks. Nothing said about petrol. NLC didn't even talk about the prolonged AsUU strike! We're not ready," @Super_Spotter tweeted.
Reacting to a news headline which states one of the missions of the NLC towards ending the hike; 'NLC vows to shut down airports, banks, others from Monday' one @SimplyOmoniyi noted that this is not the first time the labour group is coming up with such move and end up failing. He tweeted; "U have said it several times, we don't have labour union anymore. This is the worst set of labour leaders we have. They are only interested in cashing out and clout chasing. Paschal Bafyau and Adams Oshiomole remain the best labour leaders this country even had. What a pity."
"NLC and TUC and those that went into that agreement to suspend the strike are enemies of the masses. Is the strike only about electricity tariff? We will surely by fuel for N200/litreWhy deregulate when refineries are not working? No wonder, we never believed in Labour," said @AdekolaDammy.
Read this; Details of the agreement between the Labour union and the Federal Government as the strike action is suspended.