Portuguese Side Maritimo Signs World Richest Player, Faiq Bolkiah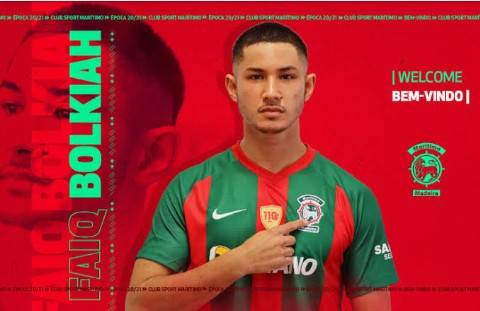 Leicester City youngster who is also known as the richest footballer in the world, has moved to Portugal to sign for Maritimo, having previously been on the books at Leicester City.
Faiq is known to be the richest player in the world due to his father Jefri Bolkiah, who is the Prince of Brunei and brother of the Sultan of Brunei, Hassanal Bolkiah.
Bolkiah's family value is rumoured to be around $28 billion, as of October 2019, which actually implies that that Faiq's family is richer than most club owners in Europe.
Despite their wealth, the youngster pursued a career in football and was able to reach the peak being a member of a Premier League top-flight club.
Naija News Understands that Faiq started a career with AFC Newbury and later joined Southampton's famed youth academy on a one year deal in 2009. He went on trials with Arsenal – featured for the Gunners in 2013 at the Lion City Cup and got a goal against the Singaporean youth team. Alerted to his availability, Chelsea then swooped and offered him a two-year deal in 2014. But he left Stamford Bridge in December, 2015 to sign for Leicester in a three-year deal.
Despite not playing a professional game in England yet, Faiq has pulled on the international shirt of Brunei nine times, finding the net once.
See the clubs tweets about Faiq
? Faiq Bolkiah
ℹ️ 22 anos
⚽ Médio/ Extremo

Bem-vindo ao Maior das Ilhas! ?❤️#CSMaritimo #FaiqBolkiah pic.twitter.com/QEy4uFsRvw

— CS Marítimo (@MaritimoMadeira) September 23, 2020
As primeiras palavras de Faiq Bolkiah com as cores verde-rubras ??

? "Este é o melhor lugar para dar continuidade à minha carreira futebolística"#CSMaritimo #FaiqBolkiah pic.twitter.com/5pGcBdF45L

— CS Marítimo (@MaritimoMadeira) September 23, 2020
Source: Naija News