IPOB's Nnamdi Kanu Says If Anyone Can Answer These 4 Questions, He'll Abandon Biafra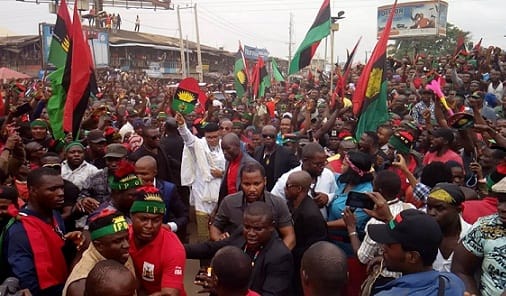 Mazi Nnamdi Kanu, leader of the proscribed Indigenous People Of Biafra (IPOB) has given fresh conditions for him to abandon his agitation for a sovereign Biafra.
Kanu in a statement released through IPOB spokesman, Comrade Emma Powerful, challenged anyone who feels capable to answer his questions about Nigeria's true age to a live debate on Friday, 25th September 2020.
According to the statement, Kanu promised to abandon his Biafra agitation if anyone lasts beyond two minutes with him in the debate.
The IPOB leader posed the following questions:
"What was the name of Nigeria before the amalgamation of 1914? If you debate me on this issue and you last more than 2 mins, I will abandon Biafra.
"What was the nationality of our progenitors Frederick Luggard amalgamated in 1914?
"If Nigeria is 60 years old on October 1, 2020 and your father or mother is 61 years, what nationality was she or he before he or she became a one Nigerian in 1960?
"What was Obasanjo's nationality before independence in 1960?
"If you feel you have an answer to any of the questions above, debate me LIVE on air tomorrow morning 25 September 2020 @ 7AM GMT (Biafraland Time)."
Meanwhile, Naija News recalls IPOB has ordered a sit-at-home in which it urged all its members in the Southeast states and outside to shutdown their markets, schools, and businesses on Octorber 1 – Nigeria's independence day as a mark of respect to all those who were killed as a result of terrorism in Nigeria.
Apex Igbo socio-cultural organization, Ohanaeze Ndigbo, in a statement on Wednesday has also, declared support for the IPOB order, noting that the call follows what is obtainable even on the international scene as long as such act does not include violence.
"If IPOB said so, we are supporting it. They are our children. We are supporting it since it is not against the law and so far as it is not a violent act. it is obtainable anywhere in the world. So, we are totally in support of it," Barrister Uche Achi Okpaga, Ohanaeze National Publicity Secretary declared.