Transfer: Thiago Completes Liverpool Move On £25million Clause From Bayern Munich [Photos]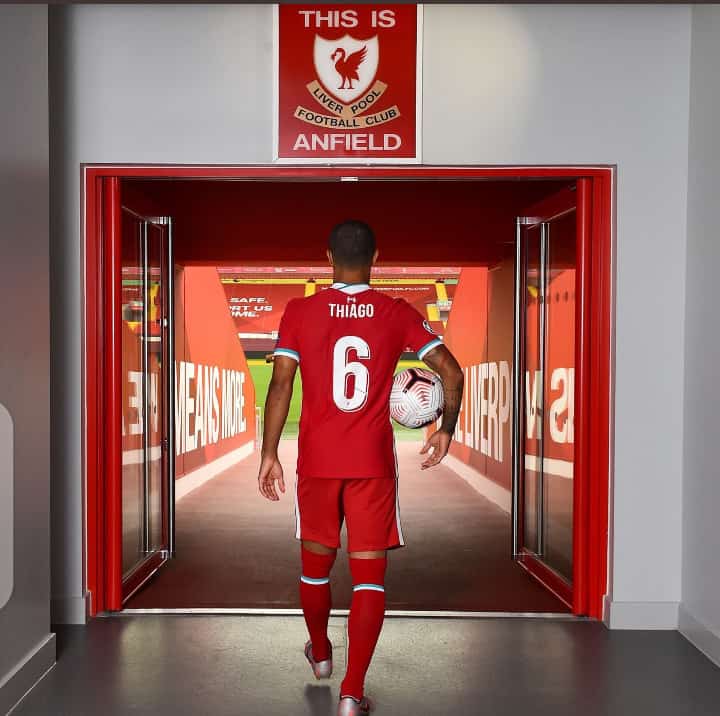 Spanish professional midfielder, Thiago Alcantara, has finally moved to England to play for English Premier League champions, Liverpool FC.
This was after the Reds agreed and paid the sum of £25million for the player's move from Bayern Munich his former club, Naija News understands.
Thiago's signing has been described as the most dramatic and best of signing in this summer transfer window, due to the fact that the player has been for months linked to joining Anfield but almost slipped away from the Reds.
Naija News reports that the 29-year-old penned a four-year deal with Liverpool and will wear the vacant No 6 shirt for Jurgen Klopp's side.
Speaking with Liverpoolfc.com after the signing, Thiago said; "I think it's an amazing feeling. I was waiting for this moment for a long time and I am very, very happy to be here."
"When the years are passing, you are trying to win as much as you can – and when you win, you want to win more. I think this club describes what I am as well; I want to achieve all of the goals, win as many trophies as possible.
"It also [has] this kind of family [feeling] that I need because we [like to] have a very close relationship with the club and I think I will feel this, I will have this feeling, with this club as well."
"I must adapt to the team as fast as I can in the situation and the context that we are living right now," he added.
Excited with his move despite all odds, Thiago said, "Everything is more compact and we started a little bit later, but still it is football and I think we have to mix all the big things up, all the good things we have. I will help the team in a defensive and offensive [way] and also in a mental aspect.
"[The fans] are not more excited than I am, for sure not! It is not about saying words, it is about doing the things. I will give my heart on the field to my teammates, the club and also to the fans."