Watch 'Nigerian Police Officer' Smoking Shisha And Drinking While On Uniform (Video)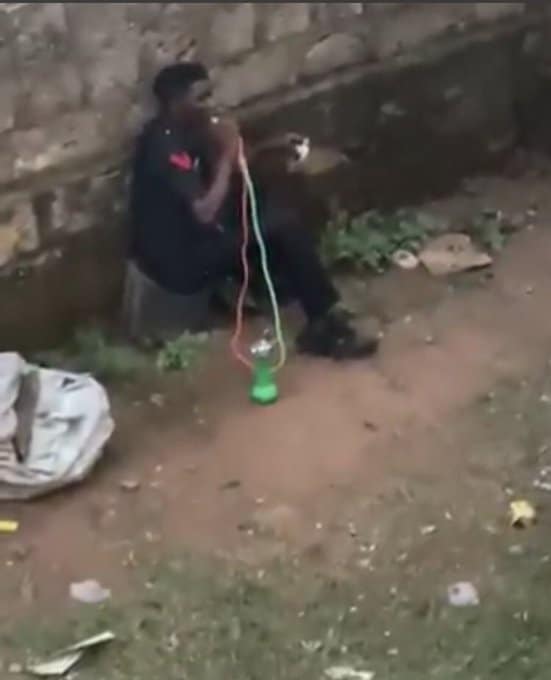 A video showing a middle-aged man believed to a police officer of the Nigeria Police Force (NPF) smoking shisha and drinking alcohol while on the uniform has emerged on social media.
Naija News reports that in a 56 seconds video sighted online, a middle-aged man in the Nigerian Poice uniform could be seen heavily smoking shisha in an undisclosed location while taking alcohol as the eyewitness who captured the shocking moment watched on.
In the video, the eyewitnesses who captured the embarrassing event on camera could be heard mocking the man in what sound like slangs in pidgin English, saying "E no sabi smoke sef, E go kill himself o…"
Watch the video below…
Nigeria Police Officer Bola Seen Getting High And Smoking While On Duty. No Wonder Mazi Nnamdi Kanu Called Nigeria A #Zoo. pic.twitter.com/HBofIYdoD5

— Somto Okonkwo (@MrSomtoOkonkwo) September 12, 2020
Meanwhile, the Nigeria Police in a statement published on its official twitter handle @PoliceNG has revealed that it has commenced an investigation into the embarrassing of the supposed policeman smoking shisha and drinking while on duty.
The statement reads as thus; "RE: Viral video of a man in Police "uniform" smoking shisha – Police Commence Investigations The Nigeria Police Force has commenced investigations into the viral video showing a man wearing what appears to be a Nigeria Police "uniform" smoking shisha.
"The investigation will amongst other things seek to forensically establish the authenticity of the video, the true identity of the man in the uniform – whether he is, in fact, a policeman, an impostor or an actor in a movie scene.
"However, while not being prejudicial to the ongoing investigations, it is necessary to state that the character exhibited by the man in the uniform is not a true reflection of who we are as a regimented law enforcement agency – our trainings, discipline, norms and tradition.
"Meanwhile, members of the public with useful information that can assist police investigations are enjoined to provide same via the following; [email protected], or DM on our social media platforms," the statement added.
RE: Viral video of a man in Police "uniform" smoking shisha
– Police Commence Investigations

The Nigeria Police Force has commenced investigations into the viral video showing a man wearing what appears to be a Nigeria Police "uniform" smoking shisha.

— Nigeria Police Force (@PoliceNG) September 13, 2020
Source: Naija News