Boko Haram: 'Army Killed Gana, The Same Way They Killed Mohammed Usufu' – Nigerians React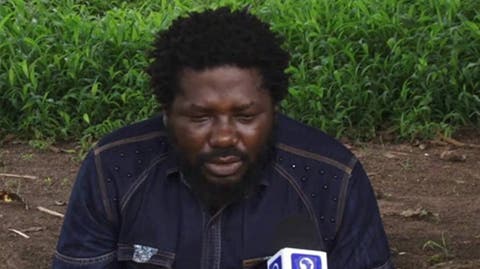 A new revelation about the actions of Terwase Akwaza, also known as Gana before his death has emerged.
A member of his group identified as 'Major' noted that the most wanted criminal in Benue State directed them to continue the battle.
Major who gave his other name as Aondehemba spoke in Tiv language to The Nation in Keffi on Friday evening while he was heading to Abuja to console the wife of Gana.
He revealed that the late miltant leader knew that he was going to die and handed over all his powers to the next person to him in the gang before coming out to embrace the amnesty at the Akume Atongo stadium in Katsina-Ala.
Some Nigerians who took to the Micro-blogging platform, Twitter, noted that the military killed Mohammed Usufu years back and the action led to the creation of Boko Haram.
Major further stated that the deceased got his power from his 12 years old daughter that he buried alive 11 years ago in his village in Gbitse.
The statement has stirred reactions on social media platforms.
Here are some reactions gathered by Naija News:
Just in case the second in command starts to misbehave, please no one should pin the crimes on Fulani o.

And when our military men eliminates him like a dog, no one should say he was trying to repent. Anyone who tries to make some silly excuse for him. Na thunder go fire you

— ♠️ Sanni Ozil (@SanniOzil) September 12, 2020
You see how zoo government great problems to themselves .very sad that zoo army killed Gana that is how they killed mohammed usufu the founder of bokoharm

— Chijioke Udeh (@ChijiokeUdeh3) September 12, 2020
We shld all laugh and not care abt the likely impact on the people on ground. The people know the gang is more than just #Gana and they do not want to appear to have arranged with the military to kill him in the name of amnesty so as not to incur the wrath of his remaining gang.

— Anyebe A. Anyebe (@AnyebeAnyebe) September 10, 2020
If Gana was actually intercepted and killed by the military, then I don't have words for this govt, no trial nothing, just extra Judicial killings when it's not Northern folks? Plus are they ready for the fallout in those communities? Or is it the plan for the fallout all along? https://t.co/tJgJO8bkYc

— Tezz (@tezzndI) September 8, 2020
You are the dunce here sadly. The army arrested Yusuf of BH and handed him over to the police who killed him. In gana's case, he got amnesty and went back to him murderous ways, got into a shoot-out with the military on the way to a supposed "surrender"

— Daddy D.O?? (@DOlusegun) September 9, 2020
Source: Naija News