Four States Herdsmen Want To Capture In Nigeria – Gana Leaked Security Details Before His Death (Video)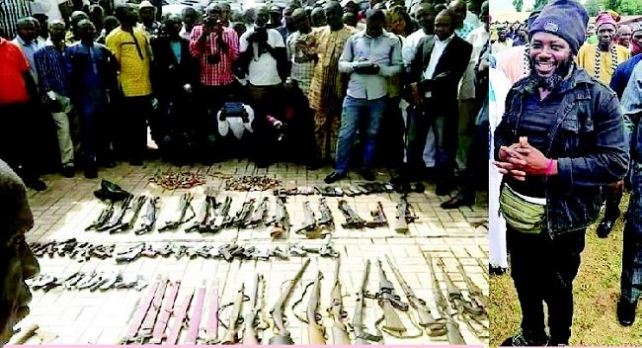 Wanted Benue gang leader, Terwase Akwaza, popularly known as Gana leaked security details before his death on Tuesday, revealing four Nigerian states armed herdsmen are eager to capture.
Naija News had reported earlier that Gana was killed by operation AYEM APKATUMA III of the Nigerian military. The murder of the Wanted Benue Gang leader came after he surrendered for the amnesty programme in Katsina-Ala township stadium in Katsina-Ala local government area of Benue North senatorial zone on Tuesday, September 8.
Before he surrendered, a  bounty of N10m had been placed on the gang leader declared wanted years ago. That was the second time he was giving up himself after surrendering catchment of arms and ammunition to Benue amnesty programme of Governor Samuel Ortom, which he granted to restive youths in his first tenure.
Addressing reporters on Tuesday night in Doma LGA of Nasarawa state, headquarters of the 4 Special Forces Command where the lifeless body of Gana was paraded, the Commandant, Major General Moundhey Gadzama Ali said: "I invited you this evening to witness another breakthrough by troops on operation AYEM APKATUMA III
"At about 1200hrs today, we received strategic information on the movement of the dreaded bandit named Terwase Akwaza Agbadu AKA Gana along Gbese-Gboko-Makurdi road
"Troops on operation AYEM APKATUMA III moved swiftly and mounted snap roadblocks along routs at 1300hrs, there was a meeting engagement with the convoy of the dreaded bandit AKA Gana
"A shot out ensured and he was killed. During search, the following were recovered, Qty 5 AK 47, Qty 1 FN rifle, Qty 2 Beretta pistol, Qty3 pump action guns, Qty 1 locally fabricated submachine, Qty 10 Dane gun, Qty 19 browsing pistols, Qty 35 fabricated revolver pistols and Qty 2 fabricated mortars."
"Other ammunition recovered, according to him, include Qty 766 rounds of 7.62mm special, Qty 27.9mm rounds, Qty 26 pump action cartridge
Major General said Qty1. Machine, Qty2 waist charms, Qty2.finger ring charms and Qty2 fabricated improvised explosives were also recovered, adding that 40 of Gana's men have been captured in the operation and under custody to be handed over to the civil authorities for prosecution.
However, after his death, a video of Gana emerged where he had an interview with Channels Television during which he named the four states armed herdsmen are interested in capturing. The four states are in the northern part of Nigeria and they include Plateaus, Taraba, Benue and Nasarawa state.
"I followed the Fulani herdsmen, they led me to Niger after that they led me to Cameroon after that they led me Nigeria and they started saying that they had clashed in Nigeria.
"They told me they have about four states they want to capture being Plateau, Taraba, Benue and Nasarawa state. The Fulani herdsmen brought people to me and they told me that the people will choose which state to sponsor, so the person that called me said he wants to sponsor us to capture Taraba state.
"So when I went to collect the brief for the job (capturing of Taraba state) to start, I told them that they should give me N1 billion, the sponsors said the money was too much and they started negotiating after which they gave me N50 million and I told them N50 million was too small that they should give me at least N750 million because Taraba state has tight security so they should give me the money so I can negotiate with the security agents in Taraba and know how the fight will go on but the sponsors said that was too much and they gave me N350 million but I refused to fight with N350 million." Asked if he collected the N350 million, Gana replied: "No".
"When I refused, they didn't give me the money because the money was too small to fight against the security in Taraba state."
Watch the video below…
Watch why Nigerian Army killed Gana..

If you don't stop Buhari, you won't have homes in the coming years..pic.twitter.com/hSpVOZcZKP

— PROF. LATTE™ (@honilatte) September 9, 2020