Nnamdi Kanu Warns Orji Uzor Kalu On Biafra Agitation, Reveals When He Will Return To Nigeria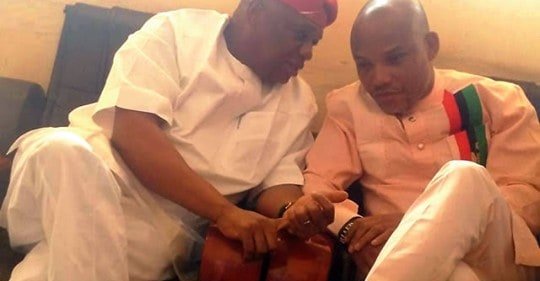 The leader of the proscribed Indigenous People of Biafra (IPOB), Nnamdi Kanu, has warned the former governor of Abia state and the Senate Chief Whip, Orji Uzor Kalu on his recent statement about Biafra agitation.
Naija News had reported earlier that the Senate Chief Whip pleaded with President Muhammadu Buhari to allow him to convince the IPOB leader to stop his agitation for the Republic of Biafra.
In a statement released in Abuja, Nigeria's capital on Tuesday, the former governor had said Kanu will listen to him. He stated this in reaction to the recent altercation between members of IPOB and security personnel in Enugu state.
Senator Kalu had said he is a believer in one Nigeria and believes that people of the country are so entangled with each other that no one should be talking about separation. He added that what the country needs is to focus on taking advantage of the country's population to build a stronger economy.
"If the Federal Government permits me, I will go to the United Kingdom and negotiate with Nnamdi Kanu to return to Nigeria. I will convince him to drop the agitation for Biafra because our people don't need it," Kalu had said.
However, reacting to the claims by Kalu during a live broadcast on Radio Biafra monitored by this reporter on Wednesday evening, Kanu warned that anybody coming to him with the intention of convincing him to drop the idea of Biafra, he can assure them that what happened to Ike Ekweremadu, a former Senate President who was attacked in Germany last year by IPOB members, "will be a child's play to such individual."
Kanu warned that he has not mandated anybody to speak on his behalf to meet with Nigeria government nor representative to negotiate to stop Biafra agitation, adding that he will only meet Nigeria government to show him boundaries of "Biafra land  and sign the necessary documents" 
The IPOB leader said: "Anybody coming to me with intention of convincing me to drop the idea of Biafra, I can assure you what happened to Ike Ekweremadu will be a child's play to such an individual. This is the era of saboteurs and we must be very careful.

"I have not mandated anybody to speak on my behalf or myself to meet with Nigeria government nor representative to negotiate to stop Biafra agitation. I will only meet Nigeria government to show me boundaries of Biafra land and sign the necessary documents."