Edo Election: Ize-Iyamu Tackles Obaseki During BBC Debate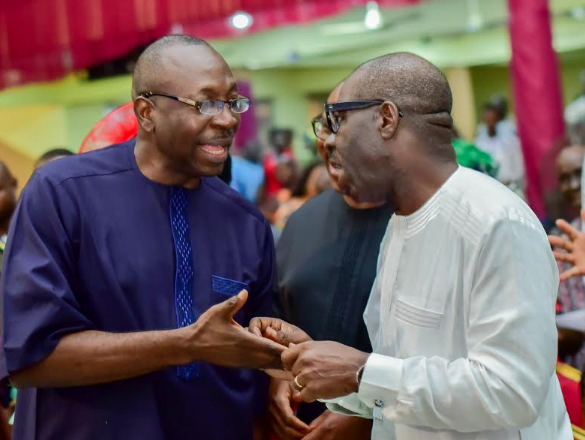 The two major contenders in the September 19 governorship election in Edo State, Governor Godwin Obaseki of the Peoples Democratic Party, PDP, and Pastor Osagie Ize-Iyamu of the All Progressive Congress (APC), on Friday, September 4 had some dramatic session during a debate anchored by BBC News Pidgin.
Naija News understands that a governorship debate was organised by BBC News Pidgin on Friday evening for candidates in the Edo State 2020 Governorship Election coming up in the next fourteen days.
The drama started after the incumbent governor requested to excused himself from the debate a few minutes after the debated started. Naija News learnt that Obaseki had started the virtual meeting with other candidates, including Ize-Iyamu his main rival before he begged to leave to attend another meeting.
Obaseki begged the moderator and his co-panellists to allow his deputy, Philip Shaibu, to take over the debate while he exits to attend another meeting.
However, Ize-Iyamu objected to the idea, insisting that he would waste his time to debate with Obaseki's deputy, Shaibu.
Taking excuse to exit the meeting, Governor Obaseki said, "First, I wan' thank una say una invite me come this programme, make we debate among ourselves, make we fit talk wetin we wan do for the people of Edo State.
"But make I first start by apologising. You see, as I dey now, I no dey Benin. I had to travel on emergency this evening come somewhere. And the meeting dey very important. But abi tell una, so my deputy dey on ground. E no get anything wey I dey do wey im no know."
He added speaking in Pidgen saying, "So, I say out of respect, make I first do this opening round, I will rush go the meeting, and hopefully my deputy go continue."
Unsatisfied with the request, Ize-Iyamu said, "Abeg make I talk small for wetin Governor Obaseki talk. This debate na for governorship candidates, no be wetin den dey delegate. If he no go fit stay, he no go fit stay.
"But say he wan' comot make im deputy go come dey follow us debate, I no get hand for that one. If he no dey ready, make im no say, he no wan' debate with us.
"But if he wants to debate, he has to stay but me no go sit down with im deputy. If na deputy own, I go call my deputy make im come talk with im deputy. No be me and im deputy dey debate, na governorship debate."
However, Obaseki later left Ize-Iyamu and the other candidate to continue, while sis deputy, Shaibu, reportedly did not feature at the debate. Obaseki, however, resurfaced after about an hour, towards the end of the debate.
Meanwhile, the Oba of Benin, Ewuare II, has expressed his dissatisfaction with the feud between former Chairman of the All Progressive Congress, Comrade Adams Oshiomhole and Governor Godwin Obaseki of Edo State, which according to him is already having negative effects on the State and its people.
Source: Naija News