'I Run My Government For Profitability' – Governor Yahaya Bello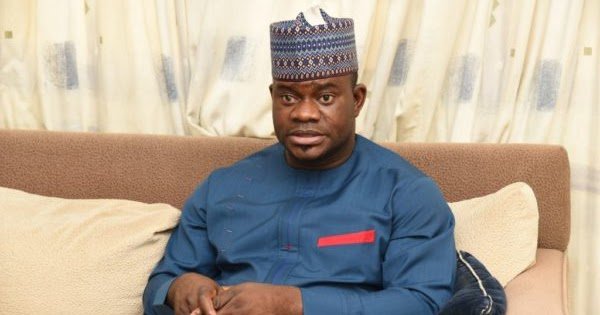 Kogi State Governor, Yahaya Bello has stated in a recent interview that he runs his administration for profitability.
According to the governor, he has forfeited personal entitlements among other benefits attached to his office to run the state affairs like a private organisation. Governor Bello noted that he still uses his personal vehicles and none other.
Naija News understands that Bello made the submissions on Monday night, August 31 during an interview with Channels Television on Politics Today. The interview was coming not long after Supreme Court affirmed Bello's re-election as Kogi State governor, Naija News reports.
Naija News had reported earlier that Governor Yahaya Bello has reacted to the Supreme Court ruling which affirmed him as duly elected for a second term in office.
It could be recalled that the Independent National Electoral Commission, INEC, declared Bello winner of the November 16 governorship polls in Kogi State with 406,222 votes to defeat all other candidates.
However, following suits from the opposition, Bello was on Monday, unanimously affirmed as duly elected by a seven-man panel of the Supreme Court led by the Chief Justice of Nigeria, Justice Tanko Muhammad.
Naija News recalls Bello contested and won on the platform of the All Progressives Congress (APC).
Speaking on his victory at the Supreme Court on Monday night, Bello dedicated the victory to the youths and the people of the Kogi state, saying, "I will never betray the trust that the younger generation and the youths reposed in me in steering the affairs of Kogi State and moving forward. I know today that I am a role model to so many millions. I will try as much as possible to do my best and my best will be good enough for our people."
Speaking about his vehicle, Bellow noted that many Kogi State government officials still use their personal vehicles.
"We are running the government as if we are running a private business for profitability. What do I mean by that? Starting from myself as the executive governor, my deputy, and all other government officials, it will interest you to know that a lot of us are still using our private vehicles," he reiterated.
"A lot of us have forfeit(ed) and forgo(ne) our personal entitlements. Like me personally, a lot of vehicles that I used today are my personal vehicles. I didn't come into office to meet or inherit some of these things."
He added, "Go to Kogi State Government House today otherwise referred to as Lugard House. See how it is run today and the look compared to when we came into office. There are several projects going on, I can't mention all of them, and there are still more coming. In fact, that was what propelled the people of Kogi State to vote for me en masse in a way that has never been this way before."
Source: Naija News