Arsenal Name Ken Friar Life President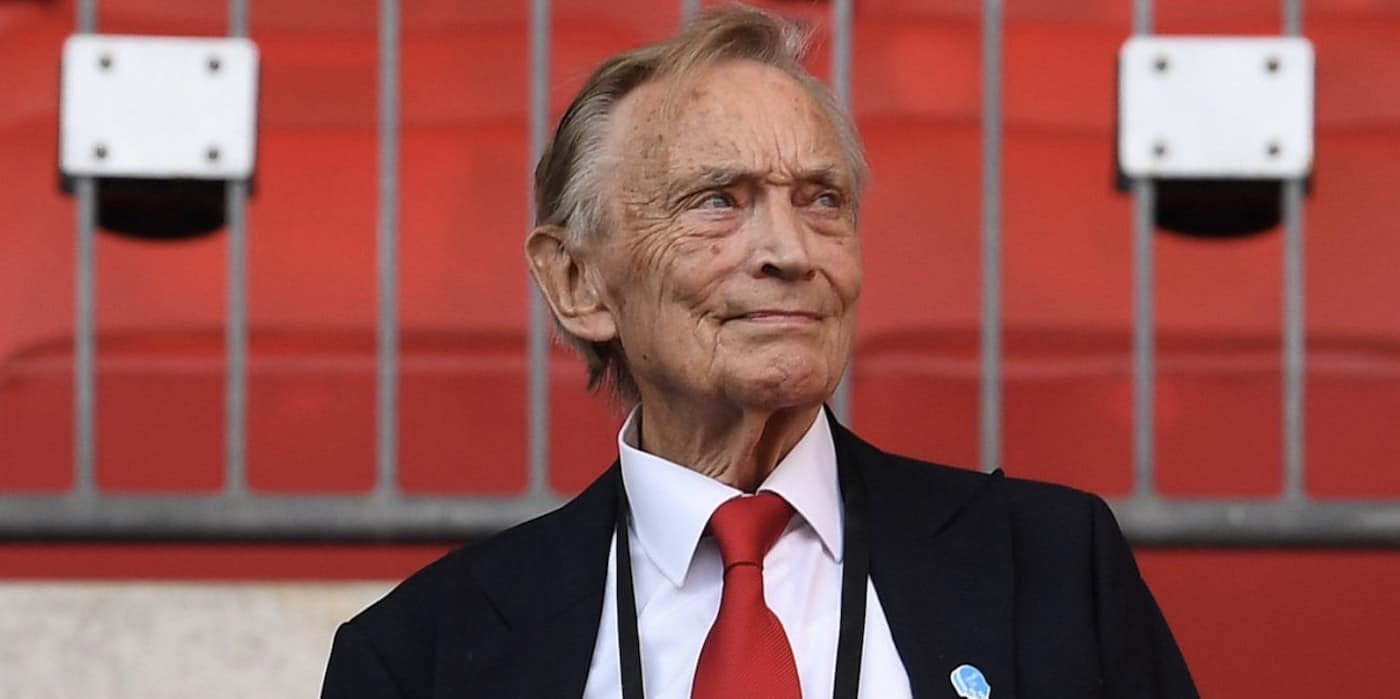 Arsenal executive director, Ken Friar, will today, Tuesday, become a life president of the club after stepping down from the board and retiring from his executive responsibilities.
This was announced in a statement by the FA Cup champions on Tuesday.
The statement reads: "'Mr Friar', as he is known to all at the club, started working for us 70 years ago. Starting full time in the club's box office in 1950, he progressed to the role of box office manager before becoming club secretary in 1973.
"Ten years later, in 1983, Mr Friar was appointed managing director, a position he held until 2000 when he changed role and took charge of our new stadium project alongside his great friend and fellow director, Danny Fiszman.
"Together with Danny and many others, Mr Friar delivered the hugely complex stadium project on time and within budget, a wonderful legacy to all those involved. He was awarded an OBE in 2000 for services to association football and has also received the Freedom of the Borough of Islington."
Announcing his decision, Mr Friar, now aged 86, said: "Every day of my working life has been at this great club and I have treasured them all. It has been an honour and a privilege to see the club grow whilst maintaining its core traditions and values.
"Society, football and the club have all changed radically over the years but Arsenal has remained a constant force. We've won and lost many football matches but we have always recognised that as a club we play a really important role in our local community and beyond. I know that will continue as we move forward.
"I made this decision several months ago before the pandemic arrived. The club is in the hands of good people in Stan and Josh Kroenke, the board and our staff. They understand what we stand for and what we mean to our many millions of supporters around the world. I look forward to finally being able to watch our matches purely as a supporter without the inevitable concerns and stresses which come with management and board responsibilities."
Speaking on behalf of our owners, Kroenke, Sports & Entertainment, Stan and Josh Kroenke said: "Mr Friar epitomises everything we strive for as a club. He is always looking forward and has a relentless desire to make Arsenal stronger and better.
"We thank him for everything. Seventy years working for one organisation is extraordinary. The support, counsel, and wisdom he has shown us and so many hundreds of people during his time at the club will never be forgotten. We are sad that he has decided to step down from the board but fully understand. He will always be a big part of what the club stands for and we're delighted that he has accepted the invitation to become our life president."
Source: Naija News