NSCDC Arrests Farmer For Allegedly Killing Herdsman Whose Cow Grazed On His Farm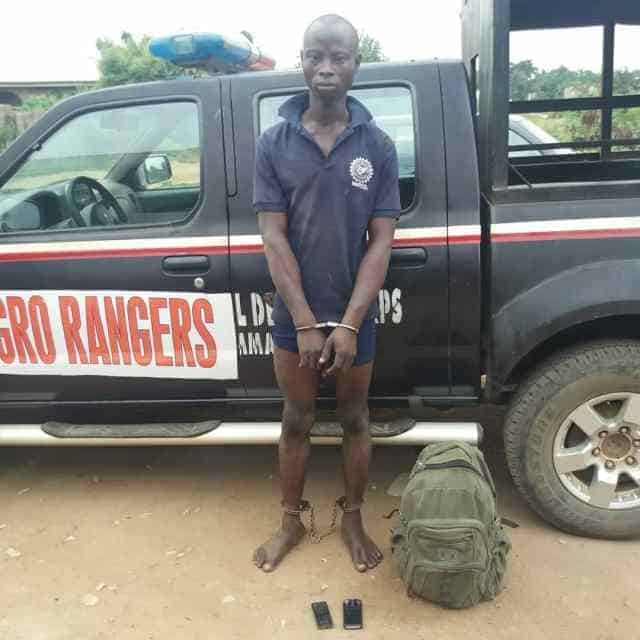 Agro Rangers squad of the command of the Nigeria Security and Civil Defence Corps in Oyo State has reportedly arrested a farmer in Ogbomoso for allegedly killing a Fulani herdsman in his farm.
Naija News learnt that the 27-year-old farmer identified as Abraham Alamu was apprehended for the murder of a herdsman who is identified as Shuaib Adamu.
Speaking on the development during the weekend, the spokesperson NSCDC, Oluwole Olusegun, told newsmen that Alamu launched a brutal attack on Adamu of Elega village in Oriire local government area of the state, on August 21, for allegedly sending cattle to his farmland to graze.
It was reported that Alamu had evaded arrest on August 21 and escaped to an unknown destination before he was later tracked down by the security operatives on Friday, August 28.
Olusegun, however, noted that Alamu has been handed over to the Oyo state police command for investigations into the suspected murder.
Items recovered from the suspect include carpenter working tools: scissors, hammer, saw, nail remover, mosquito net, three ATM cards, two apprentice identification cards, cloth, bible, toothbrush, and purse, Naija News understands.
Meanwhile, a man has been killed in Lagos State for gossiping about his neighbour's affair, Naija News reports.