IPOB vs DSS: Pro-Biafra Group Threatens "Hit and Hide" Against Security Agencies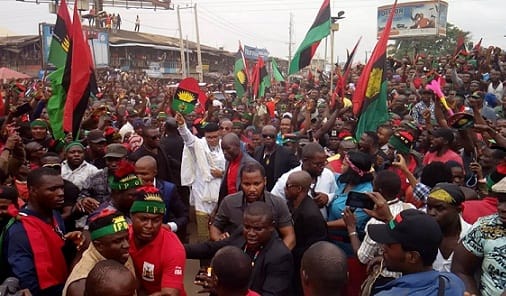 The Biafra Nations Youth League (BNYL) has warned that the incessant killing of pro-Biafra supporters in Nigeria by security operatives may lead to "hit and hide" approach.
Naija News reports that members of the Indigenous People of Biafra (IPOB) had clashed with operatives of the Department of State Security (DSS) in Emene, Enugu State, reportedly resulting in the death of two DSS operatives and 21 IPOB members.
Reacting in a statement on Monday, Deputy National Leader of BNYL, and Head of Operations, BBS Media, Ebuta Takon Akor  noted that is cautioned is not taking the Southeast and Southsouth may see the rise of the "hit and hide" approach.
Akor accused security agencies of aiding Fulani herdsmen in attacking the south while arresting and killing pro-Biafra youths.
He said: "The security agencies are stupidly arresting and killing our people who identify with the movement and at the same time they are aiding the Fulani jihadists to be attacking our land, we won't keep silent forever"
BNYL warned that another clash might be worst than that of Emene especially if the security interfere with their National Convention coming up on 28 September in Enugu.