Edo 2020: 'I Would Not Allow Oshiomhole's Kind Of Distraction This Time' – Says Ize-Iyamu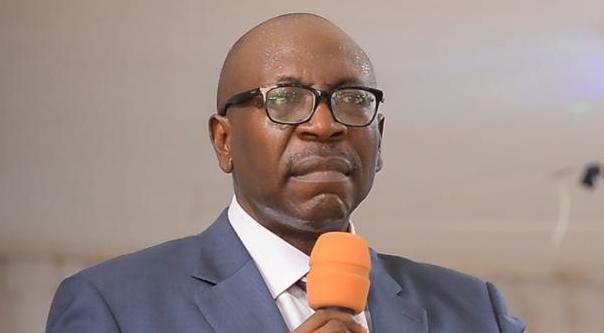 The governorship candidate of the Nigeria ruling party, All Progressives Congress (APC) in Edo, Pastor Osagie Ize-Iyamu has said that he would proceed to seek redress at the court should the opposition party rigged the forthcoming election.
The Pastor turned politician said he would not resort to violence as he is not so desperate for the position. He added that the former National Chairman of the All Progressive Congress, Adams Oshiomhole distracted him in the previous election to sell bad market to Edo people, but would not allow such this time around.
Naija News recalls that Ize-Iyamu in 2016 under the umbrella of the opposition party, Peoples Democratic Party, PDP, contested for the governorship seat in Edo but lost his to the incumbent governor, Godwin Obaseki, who is now his rival again from the opposition party.
Governor Obaseki in 2016 contested and won under the All Progressive Congress, APC, but would not contest against a candidate his former party, Ize-Iyamu under PDP umbrella, Naija News understands.
Speaking with newsmen on Thursday, August 20, Ize-Iyamu noted that anyone who genuinely wants to serve his people needed not to be desperate for a position.
The clergy assured his supporters of victory, noting that peradventure the election was rigged, he would seek redress at the court and not resort to violence.
He said, "A man who genuinely wants to serve cannot be desperate. It is not compulsory that I should be the governor. If God wills, I will win. I assure you that if I lose the election, the worst that can happen is that I will go to court but I won't resort to violence. We have warned our supporters against violence," he said.
"Ours is a genuine roadmap to transform our state from its present unacceptable condition of underdevelopment to an attractive state with a vibrant economy."
Ize-Iyamu, however, lamented over the destruction of his campaign materials, asked the security agencies to arrest the perpetrators.
He said, "What they are trying to do is to raise alarm so that voters will not come out to vote to enable them to write their result. We want to assure our people that there would be adequate security on election day. Let them come out to vote. We don't need to resort to violence because we will win all the 18 local governments," Ize-Iyamu said.
"Rather than talk about what they have done, they are saying 'Oshiomhole abused you, now he is praising me'… Do you expect him to praise me when he was trying to sell a bad market? That was the only way to sell a bad market.
"He (Oshiomhole) wanted to distract me and he succeeded. This time around, I won't be distracted, I will market my agenda," I