Mali Crisis: Malian Colonel Declares Self Head Of Junta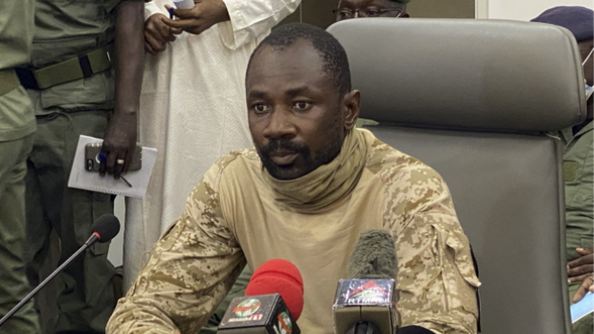 Malian Army officer Colonel Assimi Goita has announced himself as the coup leader who overthrew President Ibrahim Boubacar Keita.
Naija News had reported earlier that Malian President Ibrahim Boubacar Keïta and his Prime Minister, Boubou Cissé, were "arrested" late Tuesday afternoon in Bamako by mutiny Soldiers supporting the opposition.
"We can tell you that the president and prime ministers are under our control. We arrested them at his home " (at the home of the Head of State), said a soldier, who requested anonymity.
"IBK (President Keita) and his Prime Minister are in an armoured vehicle on their way to Kati", the military camp on the outskirts of Bamako where the mutiny began in the morning, said another military source in the mutineer camp.
Moments after the news of President Keïta's arrest went viral, a video showing the moment Mali President was arrested emerged on social media.
Shortly after this, another video emerged, showing the moment Mali's Presidential Villa was taken over by young protesters following President Keita's arrest by the soldiers of the Milian Army. In the video, the apparently excited young Malians could be seen playing inside the swimming pool at the Malian Presidential Villa.
Speaking on Wednesday, the Malian Colonel said: "Let me introduce myself, I am colonel Assimi Goita, chairman of the National Committee for the salvation of the People," he said after meeting top civil servants.
Before yesterday's military coup in Mali, the Malian Colonel had appeared among a group of officers seen on television overnight Tuesday-Wednesday to announce the takeover but did not speak.
After Mali's President was arrested, coup chiefs in the West African country called on the public to return to normal life, warned against acts of "vandalism" and threatened to punish any soldier found guilty of extortion. But they made no reference to the detained leaders or their whereabouts.