Bayelsa Election: TB Joshua's 'Prophecy' Trends As Tribunal Sacks Douye Diri (Video)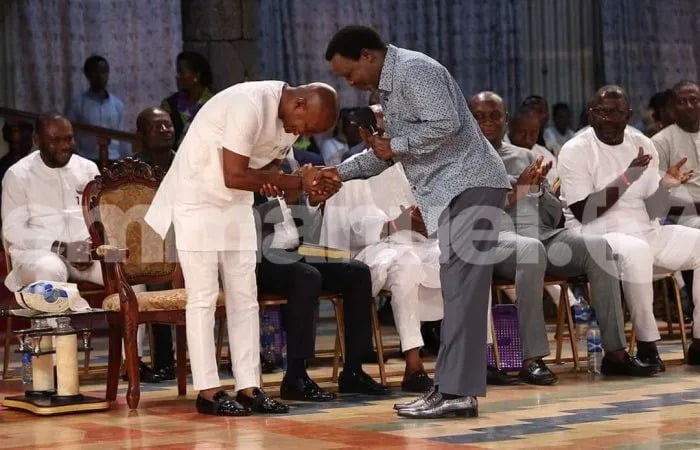 What many tagged as a "prophecy from Prophet TB Joshua" has started trending following the sacking of Douye Diri as the governor of Bayelsa State by the Election Tribunal.
Naija News had reported earlier the Bayelsa State governorship election tribunal sitting in Abuja, Nigeria's capital, nullified the election of Governor Duoye Diri of Bayelsa state, south-south Nigeria. The ruling was after The Advanced Nigeria Democratic Party (ANDP) had asked the tribunal to cancel the election because it was not included in the election which held on November 16, 2019.
Justice Yunusa Musa, who delivered judgment on Monday, upheld the prayer of ANDP and ordered the Independent National Electoral Commission (INEC) to conduct a fresh election in Bayelsa within 90 days. The presiding judge also directed the Commission to include ANDP in the fresh election.
However, moments after the news of Diri's sacking emerged, some Nigerians took to social media to recall what they described as the 'prophecy' given to the candidate of the All Progressives Congress (APC) 2019 Bayelsa governorship election, David Lyon by TB Joshua.
A Twitter user, Olupitan Oluwamuyiwa wrote: "When Prophet TB Joshua asked David Lyon to wait until after his inauguration before he gives his testimony of his victory in the Bayelsa Election in 2019, I know there was going to be some drama before his inauguration… As we speak, fresh elections are possible in Bayelsa," wrote Oluwamuyiwa on Twitter.
Similarly, Tega Mike also wrote on another social media platform on Facebook: "Please who can quote the words from Senior Prophet T.B Joshua to David Lyon for me," commented Bayefa Emomotimi on Facebook in the light of the news. "TB Joshua's words are coming to pass," Mike added on Facebook.
After Lyon's initial landslide victory in the governorship election in Bayelsa State, he visited Joshua's church in Lagos, Nigeria's commercial city, for a 'thanksgiving service' only to be told by the clergyman that it was too early to share his testimony.
"For your information, this is not the time for testimony; this will come after his inauguration," Joshua cryptically commented in the service on December 1st 2019.
"The only way Bayelsa people will believe that he is the one they voted for is for him to meet the expectation of the Bayelsa people," the cleric further counselled.
"It is better to live poorly upon the fruit of God's goodness than to live to plentifully upon the product of our own sin. Listen to the voice of wisdom but also make use of your brain," he concluded.
The moment Pastor T. B Joshua told David Lyon not to share testimony as Governor-Elect but wait till after his inauguration.

Wise men speak in parables pic.twitter.com/Dq7kUbDR2N

— Ondo First Born® (@OndoFirstBorn) February 13, 2020
When David Lyon's victory was controversially rescinded on the eve of his inauguration due to discrepancies in his deputy's paperwork, Prophet Joshua's message surfaced on social media again, with many users believing his message was warning Lyon of the impending trouble.
However, with the news that fresh elections are to be held in Bayelsa as directed by the Tribunal, there are indications that TB Joshua's words may indeed find fulfilment given the continued popularity of Lyon in the region.
Source: Naija News