Senate Reveals What It Will Do To Buhari Over Service Chiefs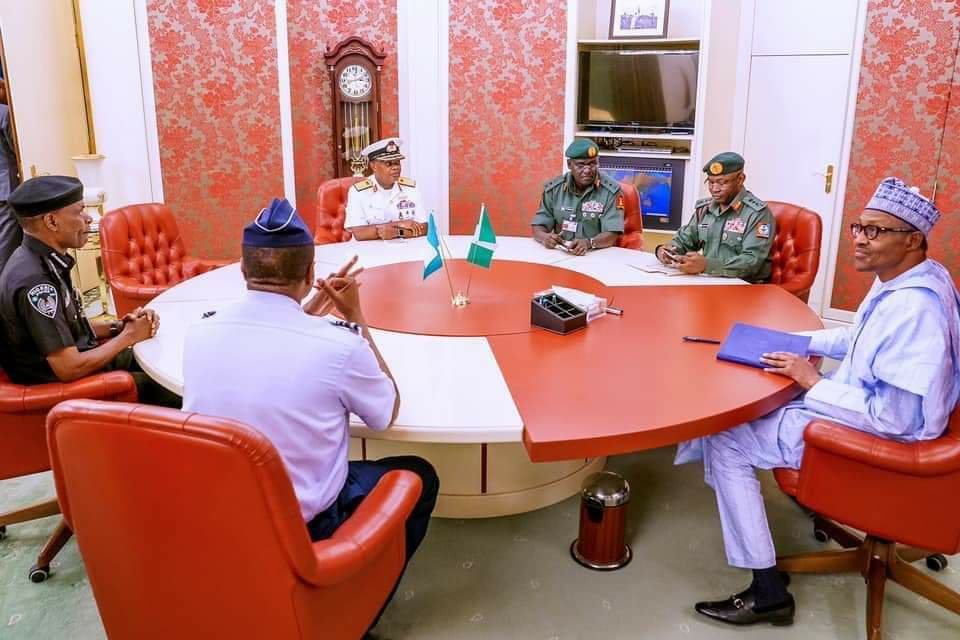 The Senate has decided to persuade President Muhammadu Buhari to sack the Chief of Defence Staff, Chief of Air Staff, Chief of Army Staff and Chief of Naval Staff.
Recall that the Senate had on July 21, 2020, asked the nation's security chiefs to step aside.
This was following a motion moved by the Chairman, Senate Committee on Army, Senator Ali Ndume during plenary via a point of order.
Ndume's motion titled 'Matter of urgent national importance' was premised on the rising number of casualties among the armed forces and other security agencies due to escalating banditry and insurgency in the country. He described the situation as worrisome.
The Vice-Chairman of the Senate Committee on Customs, Senator Francis Fadahunsi, in his prayer,  demanded that service chiefs step aside.
The Senate approved the prayer and passed a resolution on it accordingly.
But in a swift reaction, the presidency stated that President Buhari reserved the power to sack or retain the service chiefs and he was not legally bound to act on the Senate resolution.
In a recent interview, the Senate spokesperson, Senator Ajibola Basiru, admitted that the resolution was purely advisory.
But he said the Senate will continue to persuade the present to sack and replace the service chiefs.
"We, however, still want to persuade the President to consider our resolution. The Presidency has said it is aware of our resolution and has pledged to look into it," Basiru said.
"The Presidency said it is not legally bound to carry out (our) resolution because it is the prerogative of the President to remove service chiefs."
"Our resolutions are just persuasive authority coming from elective representatives of Nigerians in the National Assembly."
He said, "It (resolution) is not a law. It is advisory and persuasive. The response of the Presidency is the correct position of law and I agree.
"Due to the principle of separation of power, we cannot compel the President to sack the service chiefs. We only responded to the feelings of Nigerians by asking the President to reorganise them (service chiefs) but he is not legally bound to do so."