Revealed: POS Operators Asked To Pay N10,000 Each To Lagos Govt
POS service operators in Lagos State has been issued a notification letter relating to the payment of tax for their businesses in the state.
According to a notification letter from the Alimosho Local Government Area of the state, issued to the Agbado/Oke-Odo located council development area, POS agents/operators will henceforth pay a mandatory levy of N10,000 annually to Trilling Volant Service.
The general notification letter which was dated Friday, August 14, mandated the money agents to pay a sum of N5000 for the year 2020, noting that the yearly calendar has passed halfway.
The letter, however, noted that payment of the N10, 000 mandatory levies will commence from the year 2021.
See below the notification letter as made available on the microblogging site, Twitter by Nigerian activist, Deji Adeyanju.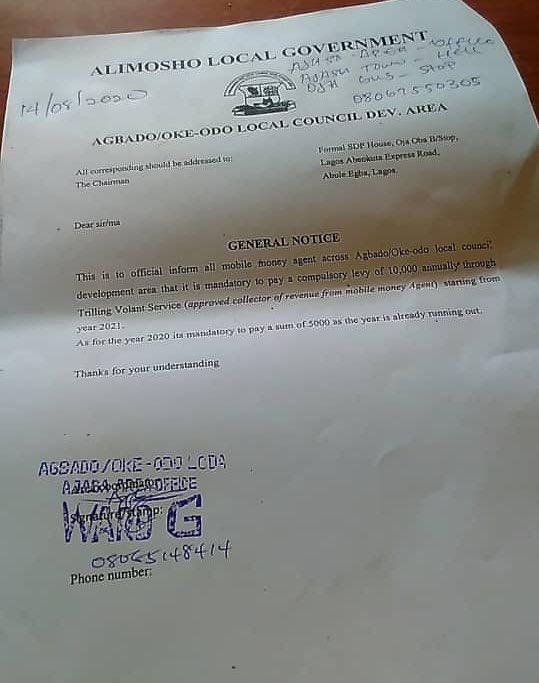 Reacting to the N10,000 levy, Devil tweeted; "The Bullion Vans & Sons LTD wants to tax Lagosians to death. N10,000 for POS fee. Somebody must pay for their 2023 spending."
Deji Adeyanju in his reaction alleged that former Lagos State Government, Bola Ahmed Tinubu and his political sons, including the current governor of Lagos, Babajide Sanwo-Olu are unnecessarily taxing Lagosians to fund their 2023 election.
Meanwhile, Naija News reported earlier that a member of the Lagos State Governor's Advisory Council (GAC), Lanre Rasak is dead
Rasak, died at the aged of 74 on Saturday morning after a brief illness, Naija News understands.