Nigerians React To Latest €5.5m Abacha Loot From Ireland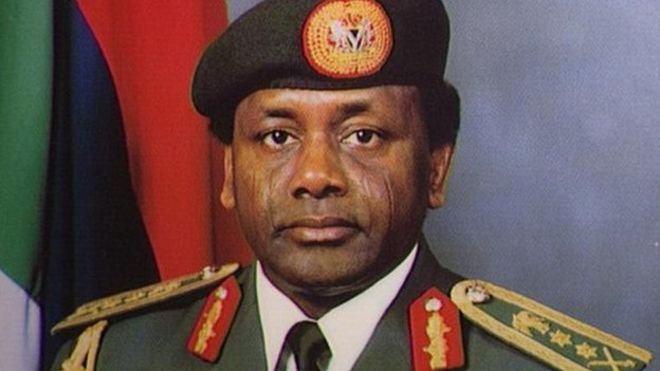 A storm of reactions by Nigerians has greeted the latest €5.5m Abacha loot from Ireland.
Naija News had reported earlier that  Ireland has reached an agreement with the government of Nigeria led by President Muhammadu Buhari on the return of another €5.5 million loot stashed away in the country by a former military president, Sani Abacha.
Ireland and Nigeria signed a Memorandum of Understanding (MoU) on the return of the looted fund which is kept in a Dublin based bank account.
Helen McEntee, Ireland's Minister of Justice and Equality, said the MoU followed a recent court order regarding the funds which had been frozen in 2014 by the Ireland Criminal Assets Bureau based on a request from the administration of former President Goodluck Jonathan.
Her words: "I am very pleased to sign this Memorandum of Understanding between Ireland and Nigeria. This represents the culmination of a long process which began with an internationally led investigation," McEntee said in a statement on Thursday.
"The Criminal Assets Bureau took part in this international operation which led to the freezing of over $1 billion in funds worldwide, of which approximately €5.5 million was identified in a Dublin based bank account.
"The return of these assets will be the first time that Ireland has taken such action and will be a concrete demonstration of Ireland's commitment to international cooperation in the fight against corruption and to assisting countries which have been adversely affected by corruption in the past, and is in line with our international obligations as a signatory to the UN Convention Against Corruption."
Ireland's Minister of Justice and Equality added that the signed MoU represents the commitment of the two nations in fighting global corruption.
"It demonstrates the intent of both States to uphold our shared values and our international obligations to eliminate corruption."
Moments after the news of the latest €5.5m Abacha loot from Ireland broke, Nigerians took to the micro-blogging site, Twitter, to air their opinions on the development.
Naija News captured some of the reactions below…
Another €5.5m Abacha loot from Ireland.

Was Abacha planning on starting his own country?

— the Morris Monye factor (@Morris_Monye) August 14, 2020
Federal govt : ahh, we're broke maybe we should collect loan from China. ?

Abacha : send your Aza make I wire you money pic.twitter.com/VmZs79FYri

— kingsley (@kingsleyUG_) August 14, 2020
When they say Dangote is the richest man in Africa I shake my head! If Abacha wasn't dead none of these monies would have been brought back and Buhari @MBuhari would still be defending him https://t.co/CTvqdnSUxg

— Aisha Yesufu (@AishaYesufu) August 14, 2020
Ex Presidents Obasanjo, Yar'Adua, Jonathan combined never repatriated this much from Abacha.

How come this Buhari's administration knows exactly where to go knocking? is it that they colluded when these monies were being stolen originally?

Nigeria na Cruise. Just cruise.

— Mazi @FestusGreen ?? (@FestusGreen) August 14, 2020
Nigeria is set to receive another €5.5 million of General Sani Abacha loots from Ireland.

Why repatriating all these "loots" in this administration? How did they even know where those funds were hidden? ?

— AyeMojubar (@ayemojubar) August 14, 2020
"Even if we are poor, we will never be as poor as Dangote"

Maryam Abacha, July 2001

I laughed it off then… She absolutely knew what she was saying.

— the Morris Monye factor (@Morris_Monye) August 14, 2020
Abacha is not corrupt that man is a Prophet who God has shown the future of this country to and he decides to help us by saving for the country's future. A Legend I Stan..?? https://t.co/1951hSdqtN

— Uncle Sola/ OmoIyaTeacher??❤ (@bobbyzoladem) August 14, 2020
Abacha Teller Machine (ATM) has dispensed cash and the F.G has been credited. Another €5.5m Abacha loot recovered. https://t.co/Yjlxz2t5Vt

— Chinasa Ruth⚖️ (@ruth_nasa) August 14, 2020
Abacha sending COVID-19 palliatives to Nigerians from the afterlife at a time when it's needed the most. You love to see it. https://t.co/SgK5M8AGbI

— ✨? DaddyMO?✨ (@therealdaddymo1) August 14, 2020
Abacha be steadily sending us money from his grave. A Legend

— ?????? (@posshh_) August 14, 2020
Nigeria to receive another €5.5m Abacha loot from Ireland?……But wait o, was Abacha planing to start his own country then? ?‍??‍?

— Osama? (@osirmah) August 14, 2020
I wish to thank the govt of Ireland on behalf of Abia Rwanda as they are ready to release €5.5m of Baba Omoge Kano's money frozen since 2014. Hopefully, the short second Niger Bridge should be the main beneficiary of this gesture. Baba Abacha sun re ooo. Ese oooo pic.twitter.com/NYDSnlFfkr

— Woye (@woye1) August 14, 2020
Honestly, what was Abacha's plan?? https://t.co/ZjSDwo6ngv

— Dotun Jubal (@dotunjubal) August 14, 2020
Source: Naija News