Ibeku Kingship: Nnamdi kanu Replies Gov. Ikpeazu, Reveals What He Wants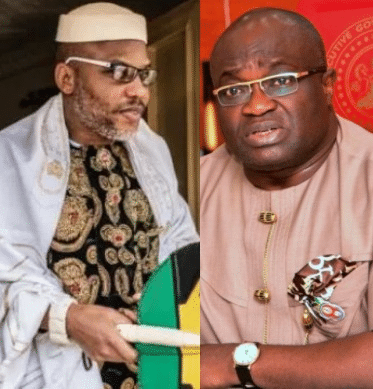 The leader of the proscribed Indigenous People of Biafra (IPOB), Nnamdi Kanu, has finally reacted to the possibility of losing the kingship of the Ibeku Kingdom he inherited from his late father.
Naija News reports had reported earlier that governor of Abia state, southeast Nigeria, Okezie Ikpeazu, gave Kanu 21  days to return to Nigeria or lose the kingship Ibeku kingdom.
This online news platform understands that Governor Ikpeazu made this comment while addressing journalists in Umuahia, the Abia State, where he lamented that the Federal Government led by President Muhammadu Buhari has abandoned Abia state because of the IPOB leader.
Nnamdi Kanu is from Isiama Afara Ukwu Ibeke community, Umuahia, Abia State. Kanu who is a Prince has been on exile since he resurfaced in Israel two years ago. He lost his parents last year.
The IPOB leader failed to attend the burial of his parents, Eze Israel Okwu Kanu (JP) and Ugoeze Nnenne Kanu. His father, Eze Kanu was the king of Isiama Afara Ukwu, however, since his burial, the kingdom has remained without a king as Kanu's younger brother cannot be crowned a king according to the tradition when Nnamdi Kanu is still alive.
Reacting to the continuous refusal of the IPOB leader to return to Nigeria, Governor Ikpeazu lamented that Nnamdi Kanu "committed an offense and ran away before the unfortunate death of his father," an offence he said has cost Abia State a lot.
His words: "I have decided to take the final decision as the executive Governor of Abia state.
"Nnamdi Kanu has done harms to Abia State! He is the reason I didn't develop Abia and complete some of the projects I promised to do because each time I go to the FG to demand money, they always tell me that my state is harbouring Terrorists.
"Nnamdi committed an offence and ran away before the unfortunate death of his father. Now it's time to take a decision.
"If after 21 days from now and he fails to come back and be crowned the king of Ibeku, I will have no option than to appoint a king myself and whoever I appoint must remain till I leave the office.
"I am the most powerful man in Abia and whatever decision I take must stand," he stated.
Apparently unbordered by Ikpeazu's threat, the IPOB leader replied the Abia Governor that his mission is to liberate Igbos from slavery and not to be king in Abia State.
Speaking further, the IPOB leader stressed that the call to return to Nigeria to be King is to distract him and no man or government can take him away from Biafra agitation.
"My mission is to liberate Igbos from slavery and not to be a king in Abia state.
"The call is a distraction to me and no man or government that can away Biafra agitation," Kanu said.