Police Beats 54-Year-Old Driver, Collect Bribes With PoS Machines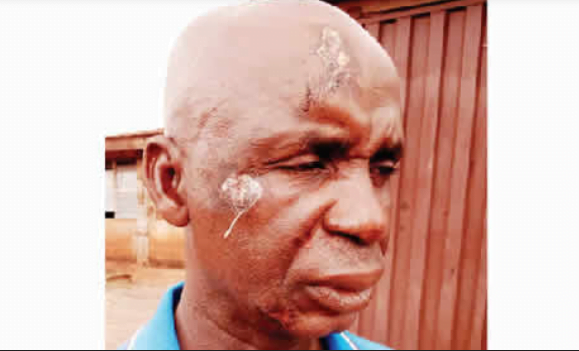 Some officers of the Nigerian Police Force, NPF, has allegedly assaulted one Mr Sunny Uzorga, a resident of Kwale in Delta State.
According to Uzorga's confession, some police officers stopped his vehicle while plying the Asaba-Ughelli route on July 28, 2020, where he and a passenger from his vehicle were both assaulted.
The man who reportedly works with Delta Appreciate Motors revealed that he was brutalized by the policemen at the checkpoint after they had held hostage one of his passengers. When asked of his offence, Uzorga said he did nothing except for standing by his passenger who was held back and asked to pay some money for his freedom at the scene.
He said, "I did nothing. The policemen that stay around Nsukwa junction flagged down my vehicle and I stopped. They asked one of my passengers to get down from the vehicle and he did. Then they started checking the contents of the pockets of the young man."
"They found two phones in his pockets and said they would not release him, but I begged them to release him. I explained to them that since I was the one who carried him from the park, there was no way I would bring him to the junction and leave him behind. One of the policemen, an inspector, shouted at me and later ordered the young man to enter their van."
The commercial driver explained further that an Inspector at the checkpoint had threatened to shoot his car tyres for trying to defend his passenger. He noted that one of the officers also begged for him but that the Inspector would not hear until he brutalized him.
He said, "The inspector threatened to shoot my tyres. I begged him not to do that. Another police inspector asked the other inspector to leave me but he refused. Suddenly, the first inspector hit me in the chest and I fell down."
"They started threatening the young man and eventually took him somewhere. They collected N20,000 from him even though he did not commit any offence. I managed to drive to Ugheli and later went for treatment because I was badly injured but my chest still hurts."
Uzorga reiterated that the N20,000 was collected in cash from the Youngman after they had searched his contents and delayed them for a couple of minutes.
When asked if he had reported the incident to authorities, Uzorga said yes, He explained "By the time I returned to Asaba on that day, it was already late. So, the following morning, after my treatment at the Federal Medical Centre, I went to police headquarters to lodge a complaint with the help of a human rights activist, Mr Victor Ojei, though the policemen have been calling and begging me over the incident."
However, the driver noted that he was later reached on phone by one of the police officers after leaving the scene with injury. He challenged higher authorities in the police force to monitor the activities of officers on the checkpoints, alleging that they do so many wrong things.
He said; "One of the inspectors, the leader of the team, collected my number after the incident. He also called me when I got to Ugheli. He told me that he had gone to the headquarters to report the incident. I also have the telephone number of the inspector that assaulted me."
"There is no money. I feel very bad. I am still in pain and my chest hurts; I can't go to work. I don't even have money to treat myself. The authorities are not doing their best. They should monitor the policemen at the checkpoints very well because they do a lot of wrong things there."
Speaking about what he had as a plan after the incident; Uzorga said, "That's why I am trying to share my story with the Commissioner of Police, Delta State, Hafiz Inuwa; Governor of Delta State, Senator Ifeanyi Okowa; and the Inspector General of Police, as well as other Nigerians, so they will know the activities of the policemen. They are like hoodlums."
He added, "I am a driver, and drivers are always on the road. We know about their evil activities on the road. We know how they force passengers and private car drivers to give them money, even via POS machines. They will force you to transfer money to their accounts before leaving you and you will have no one to fight for you. They threaten us such that we won't have any option but to do the transfer. In fact, they are robbing passengers on the road. They have their own POS machines. They do it to other motorists as well but we can't talk because they have power. When they arrest you, they will start browsing through your phones, asking how much you have in your account. Then they threaten you and tell you to transfer money to them."
He again challenged the Police Inspector General and Commissioner of Police in the region to keep tracts of activities by the officers attached to various checkpoints in the state.
"They should monitor the activities of these policemen. If you send people to work, it is your duty to monitor them to know if they are doing well. Fear will not make transporters speak out. If not because of this incident, I would not have said anything as well. Why would an old man like me be beaten like a child without committing any crime?" he said.
Meanwhile, the Student Union President of Kwara State University, KWASU, Kozeem Olaitan Hanafy, has been reportedly assaulted alongside others by some officers of the Nigeria Police Force along the Sagamu road in Ogun State.