Thugs Invade Nigerian Medical Association, Injure Many Doctors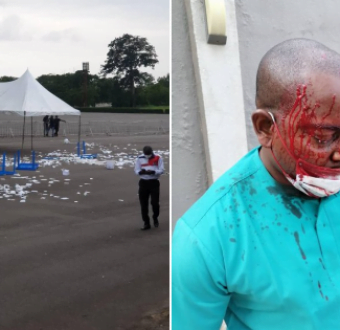 The election for a new chairman in the Enugu State branch of the Nigerian Medical Association has turned into a blood bath.
Two weeks ago, a faction had announced the suspension of the incumbent chairman, Dr. Ike Okwesili, after they blamed him for alleged gross misconduct and abuse of office.
Subsequently, one of the Deputy Vice-Chairman Enugu East, Dr Kinsley Ugwuonye, was appointed as acting chairman.
Some members of the association, who gathered at the Michael Okpara square for the Annual General Meeting and the election of new executive of the association for the next two years, were seriously injured by thugs who invaded the venue.
The thugs had stormed the venue with several dangerous weapons, while the voting was still in progress.
NaijaNews learnt that they started to destroy chairs, tables, and canopies among other objects being used for the election.
They seized the ballot papers and beat up members of the electoral committee, leading to the doctors running to save their lives.
While some sustained injuries trying to escape from the thugs, others, including the NMA chairman in the state, Dr Ike Okwesili, were thoroughly beaten and wounded.
One of the doctors, Dr. Ejike Odo, who spoke with newsmen stated that "We hope he is fine wherever he maybe because he was brutalised."
The doctor narrated that policemen who were drafted to the venue of the election had hectic time preventing major casualties.
"In the process to control the crowd and send people away from the venue, they also dealt with serious blows on the members," he added.
Source: Naija News