BBNaija: Nigerians React As Ozo Picks Dora Over Nengi As Deputy HOH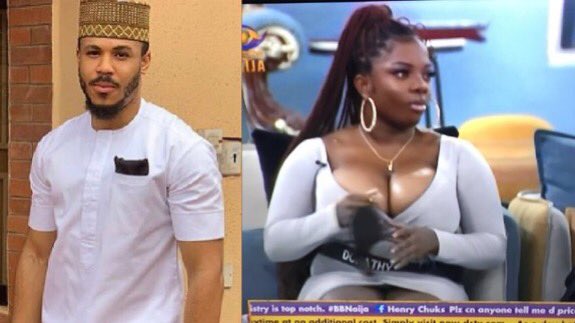 A storm of reactions by Nigerians has greeted Ozo's decision to pick Dora has his Deputy HOH over Nengi.
Naija News had reported earlier that Ozo won Monday's night Head of House game, becoming the first male HOH of the BBNaija Lockdown edition.
Ozo became the HOH for the third week of the ongoing Big Brother season five after Nengi and Lucy emerge, winners of the previous Head of House games.
Ozo won the BBNaija HOH for the third week with no ties unlike the past two which saw Nengi and Lucy emerge winners respectively.
After winning the game, Ozo selected Dorathy as his Deputy HOH, a decision he believes didn't go well with another BBNaija Housemate, Nengi, who he (Ozo) had said he is attracted to her but sees Dora as a friend.
Moments after Ozo picked Dora over Nengi, Nigerians took to the micro-blogging site, Twitter to give their opinions on the decision.
Naija News captured some of the reactions below…
Nengi at midnight, wearing Red and White wrappers with charms and Ozo's picture in her hand in the bathroom while Ozo is busy fingering Dorathy in the VIP lounge ?? #BBNaijaLocdown #nengi #Dora pic.twitter.com/14bYLmTxum

— Official Commentary Officer??? (@thatsjovie) August 3, 2020
If Ozo picked Dorothy, Nengi will be mad
If Ozo picked Nengi, Dorathy will be mad

He has picked Dora now, and he is begging Nengi
This is what we call.. Using 1 stone to kee 2 birds ??#BBNaijaLocdown

— UnCle SARM (@Uncle_Sarm) August 3, 2020
#BBNaija Ozoemena trying to please both Dora and Nengi ?? pic.twitter.com/pHn8bERWpA

— WithMyFullChest?? (@Ama_Dansoah) August 3, 2020
Ozo is the type of man that will marry Dora as a wife and keep nengi as a sidechick. Such an embarrassment!!! #BBNaijaLocdown pic.twitter.com/lApAPFr392

— QUEEN MOTHER ?✨ (@rutie_xx) August 3, 2020
Why choose Dora in the first place if you'll go back to Nengi acting like a Pvssy? I guess Ozo doesn't know anything about Picking a ground and standing firm on it#BBNaijaLocdown

— ᴛʜᴇ ᴛᴀʟᴋᴀᴛɪᴠᴇ ? (@thetalkativeNG) August 3, 2020
Ozo chose Dora as deputy Hoh only to please her. If he had his way he would have chosen Nengi. If not why did he go back to beg her?! #BBNaijaLocdown

— That weird guy? (@iamolaprinz) August 3, 2020
Why choose Dora in the first place if you'll go back to Nengi acting like a Pvssy? I guess Ozo doesn't know anything about Picking a ground and standing firm on it#BBNaijaLocdown

— ᴛʜᴇ ᴛᴀʟᴋᴀᴛɪᴠᴇ ? (@thetalkativeNG) August 3, 2020
This Ozo might just pull a TONY UMEZ on Dora..like take her into the HOH lounge and then go back to the other room with Nengi..cos Bobo e sometimes e brain no Dey connect #BBNaijaLocdown pic.twitter.com/2WqlhSzdyR

— Prince (@princennamdii) August 3, 2020