Father Mbaka Releases Powerful New Month Prophecy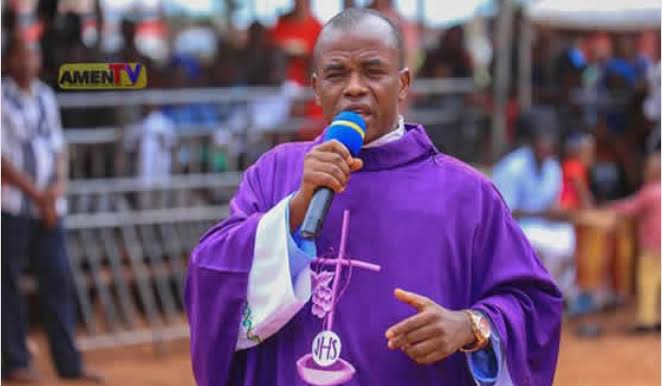 Father Mbaka has released a powerful prophecy, predicting what will happen in August 2020.
Naija News reports that Rev. Father Ejike Mbaka, who is the Spiritual Director of Adoration Ministry in Enugu, southeast Nigeria, has released powerful new month prophecies after going "mute for some time."
The controversial Catholic Priest, who predicted the sacking of Emeka Ihedioha and the emergence of Hope Uzodinma as new Imo governor, released the new month prophecies for the month of July on social media network, Facebook via the church Facebook page, Adoration Ministry Prayer line.
Father Mbaka in the prophecies for the month of August 2020, said: "God is releasing you from bondage of the barrenness, sickness, poverty, untimely death, confusion and witchcraft."
Read Father Mbaka prophecies below…
"My God Is Able To Take Away All Your Problems In Jesus Mighty Name. Welcome To The Month Of August, Let Heaven Release Its Blessings Upon You In Jesus Name.
"Like The Rain Falls From Heaven And Clean The Ground So Shall Your Blessings Falls From Heaven And Take Away Your Sorrows In Jesus Mighty Name. Claim It And Say Amen.
"God Is Releasing You From Bondage Of The Barrenness, Sickness, Poverty, Untimely Death, Confusion And Witchcraft In Jesus Mighty Name Amen."
Download NAIJA NEWS app: