Boko Haram: Stop Bringing Back People Who Have Killed Other's Parents And Family – Ndume Tells FG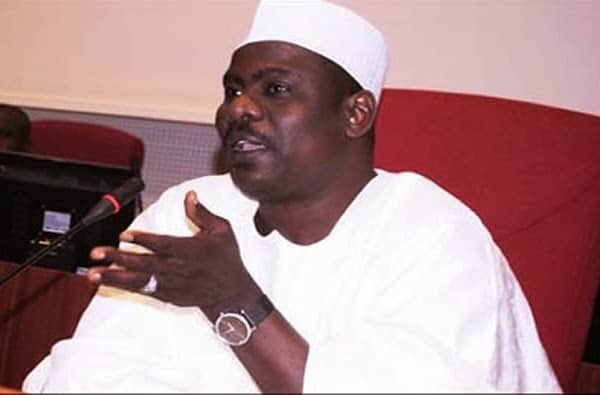 Senator Ali Ndume, the lawmaker representing Borno South in the National Assembly has told the federal government to immediately stop its deradicalization and rehabilitation programmes for Boko Haram insurgents.
Ndume in his submission, noted that the government was only wasting money on the programme as the Boko Haram terrorists are not repentant.
He also accused the federal government of re-introducing people who had murdered the friends, family, and loved ones of others back into the same society through the Operation Safe Corridor while leaving the victims in pain.
Naija News reports that the Operation Safe Corridor is an intergovernmental program aimed at rehabilitating low-risk, "repentant" Boko Haram fighters. This program is currently the only sanctioned mechanism for combatants to exit the group. Men who are deemed eligible undergo several weeks of religious reeducation, psychosocial support, and vocational training at a military-run facility.
However, Ndume has noted that the 'repentant' Boko Haram members should not be reintegrated into society as they are not truly repentant.
The Senator is quoted as telling the BBC Hausa service that: "This government's programme is unacceptable to our people. The right thing is to stop it, forthwith."
"Not that they even apologized to you, they apologized to the government with the thinking that government has failed and that is why they are being pampered," he said.
"They are like Kharajites. Many among those released have since run away. They will never repent.
"The government should know what to do about them. But not re-introducing someone to you, who has killed your parent, or your relations.
Ndume added that rather than spend money on Boko Haram members, the government should use the fund to cater for the victims of the insurgents' attacks spread across various Internally Displaced Persons (IDP) camps in the country.
"If there is sincerity of purpose in this, those in the IDP camps should be trained in various trades and vocation so that they could start life again," he noted.
Meanwhile, suspected Boko Haram members on Wednesday, attacked the convoy of Borno State Governor, Babagana Zulum while he was on his way to visit an IDP camp in the state.
It will be recalled that about two weeks ago, 602 repentant Boko Haram fighters, swore an oath of allegiance to Nigeria and are set to be reintegrated into the society.
This is coming after the repentant insurgents have completed a de-radicalization, rehabilitation, and reintegration program under the government's Operation Safe Corridor programme.
The 602 repentant terrorists denounced their membership of Boko Haram before an 11-man Quasi-Judicial Panel headed by Justice Nehizena Afolabi, of the Federal High Court, Gombe and pledged allegiance to Nigeria.
Download NAIJA NEWS app: