Mali Crisis: Buhari's Meeting With Other Leaders Ends In Stalemate
The Nigeria president on Thursday meet with the former President Goodluck Jonathan as well as Presidents Alassane Ouattara of Ivory Coast, Macky Sall of Senegal, Mahamadou Issoufou of Niger, Nana Akufo-Addo of Ghana, and the host, Ibrahim Keita of Mali at, Bamako the country capital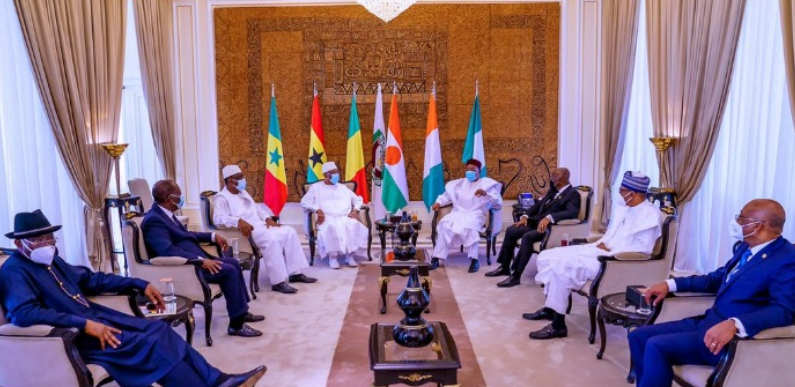 The peace mission of President Muhammadu Buhari in Mali has ended fruitlessly after meeting West African leaders over the political crisis in the country.
The Nigeria president on Thursday meet with the former President Goodluck Jonathan as well as Presidents Alassane Ouattara of Ivory Coast, Macky Sall of Senegal, Mahamadou Issoufou of Niger, Nana Akufo-Addo of Ghana, and the host, Ibrahim Keita of Mali at, Bamako the country capital
Buhari and others had travelled to the country to find a lasting solution to the political crisis in the Sahelian country.
The meeting between President Buhari and other leaders, however, ended in a stalemate as protest movements clamoured for the resignation of Keita amid a long-running jihadist insurgency that threatens to throw the country into chaos.
The President of Niger after the meeting noted that the Economic Community of West African States would hold a summit on Monday with the hope of reaching a compromise between the warring factions.
"Nothing has moved for the movement," said one of the protest leaders, Imam Dicko, after holding talks with the presidents.
"We're here to demand the Keita resignation and ensure our comrades who have been killed are not forgotten," said Yaya Sylla, a young protester.
The June 5 Movement, named after the date when the protests began, has tapped into deep anger over Keita's perceived failure to tackle the dire economy, corruption and the eight-year jihadist revolt.
The people of Mali are also angry over the outcome of long-delayed parliamentary elections in March and April that handed victory to Keita's party.
The summit came on the heels of a five-day mediation mission from the 15-nation Economic Community of the West African States, which ended on Sunday without reconciling the two sides.
The Institute for Security Studies think-tank warned on Thursday that there was an "unfavourable prejudice" towards the presidents, however, with some perceiving the leaders as protecting their own narrow interests.
"The search for solutions will have to take into account the need to improve the daily lives of Malians," the think-tank said.
The June 5 Movement noted that the President must resign from his position.
Download NAIJA NEWS app: