Flashback: What Dogara Said About APC, Buhari As PDP Member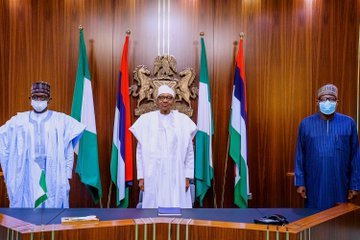 Former speaker of the House of Representatives, Yakubu Dogara criticised President Muhammadu Buhari and the All Progressives Congress (APC), when he joined the opposition Peoples Democratic Party (PDP) in 2018.
Naija News had reported earlier that Dogara, a former Speaker of the House of Representatives, dumped the opposition PDP and joined the ruling APC.
The Chairman of the APC Caretaker/Convention Planning Committee and Governor of Kebbi State, Mai Malla Buni, disclosed this after the duo met with President Muhammadu Buhari at the Presidential Villa, Abuja.
Although the former speaker declined to speak to State House Correspondents after the meeting, Mai Buni told journalists that Dogara "is now a member of APC", twenty months after he defected to the PDP from the APC shortly before the 2019 general elections.
However, twenty months after Dogara dumped the APC for the PDP, he has returned to the ruling party again after criticing the APC and President Buhari after joining the PDP before the 2019 general elections in Nigeria.
At an executive meeting of the PDP, Dogara had described President Buhari as a failure and accused him of doing nothing for Almajiris in his first term in office despite claiming to "belong to everybody" in his 2015 inauguration speech.
The former Speaker had said, "The Almajiris have seen through this fraud, this charade. The president has lost his constituency.
"We thought Buhari would choose to become the minister of education not petroleum," he said.
Apart from President Buhari, Dogara had also attacked APC, accusing the ruling party of failing to fulfil its campaign promises to Nigerians after leaving the party in 2018.
The former speaker said even if the APC should give him its ticket to recontest his seat as the House of Representatives member representing Bogoro/Dass federal constituency, he would reject it.
"… even if you give me a ticket to work in a place, where my conscience is totally not in sync with; to be candid, I cannot function effectively," Dogara had said after a PDP nomination was purchased for him by his supporters ahead of the 2019 elections.
Download NAIJA NEWS app: