Senate Asks Buhari To Sack Security Chiefs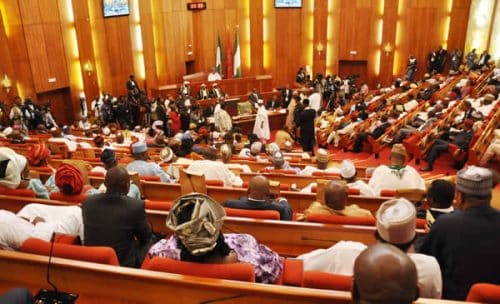 The Nigeria Senate on Tuesday asked President Muhammadu Buhari to sack all Service Chiefs over the recent killing of soldiers and mass resignation from the military.
The upper legislative chambers also directed the leadership of the military to brief its relevant committees on the factors militating against the operations of the military to order to find a solution.
Senators issued the directive during plenary on Tuesday in reaction to a motion titled: "Rising casualties among Nigerian soldiers and other security agencies" by Senator Ali Ndume (APC-Borno South).
Senator Ndume moved his motion on the back of the recent ambush of soldiers in Katsina and the alleged voluntary resignation of many soldiers.
According to the Senator, both developments and others are worrying.
Ndume said that while the Senate appreciates the sacrifices being made by the military in the fight against insurgency, it is however concerned about the negative effects of the killings on the war against insurgency, especially the reported mass resignation of soldiers.