Anambra Bishop Gets Major Appointment From Pope Francis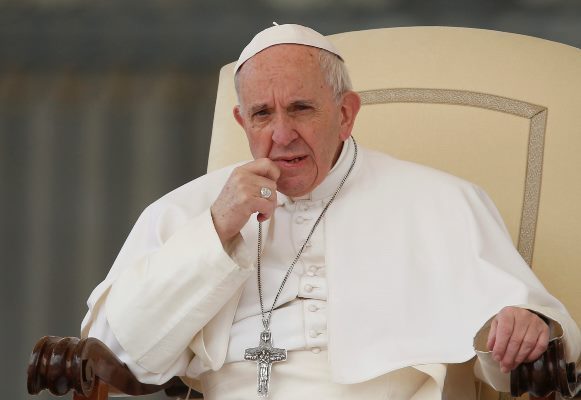 Pope Francis has appointed the auxiliary bishop of Onitsha Archdiocese in Anambra State, southeast Nigeria, Denis Isizoh, into the Pontifical Council for Interreligious Dialogue.
Naija News reports that Most Rev. Paulinus Ezeokafor, the Catholic bishop of Awka Diocese, disclosed this in a congratulatory message to Isizoh on Tuesday, July 14.
The Catholic bishop of Awka Diocese described Isizoh's appointment as a cheering one, adding that his elevation would bring about a lot of positive developments and goodwill to the people of God, especially to the Nigerian Catholics.
His words: "Bishop Isizoh's appointment is a square peg in a square hole. He is more than qualified and grounded in that area. It is a familiar terrain for him. He worked closely with Cardinal Arinze. He knows his onions. I am happy with his latest appointment. It is a move in the right direction. I know he'll succeed.
'I want to thank Pope Francis for the appointment. The Supreme Pontiff took a very wise decision. We all will benefit from Bishop Isizoh's elevation. We are here to support him. We owe him our prayers".
Meanwhile, the Pontifical Council for Interreligious Dialogue which was established by Pope Paul VI on the Pentecost Sunday, 19 May 1964, during the Second Vatican Council, as the Secretariat for Non-Christians,  is a special department of the Roman Curia for relations with the people of other religions.
It was renamed the Pontifical Council for Interreligious Dialogue by St., Pope John Paul II, on 28 June 1988.
Source: Naija News