602 Repentant Boko Haram Fighters Pledge Allegiance To Nigeria, To Be Sent Back Into The Society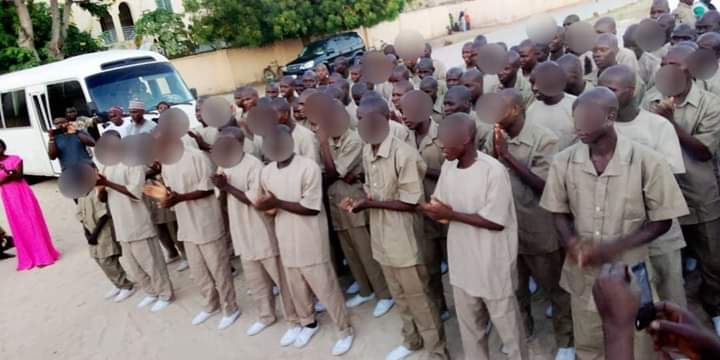 602 repentant Boko Haram fighters on Monday, swore an oath of allegiance to Nigeria and are set to be reintegrated into the society.
This is coming after the repentant insurgents have completed a de-radicalization, rehabilitation, and reintegration program under the government's Operation Safe Corridor programme.
Naija News understands Operation Safe Corridor is a small intergovernmental program aimed at rehabilitating low-risk, "repentant" Boko Haram fighters. This program is currently the only sanctioned mechanism for combatants to exit the group. Men who are deemed eligible undergo several weeks of religious reeducation, psychosocial support, and vocational training at a military-run facility.
The 602 repentant terrorists denounced their membership of Boko Haram before an 11-man Quasi-Judicial Panel headed by Justice Nehizena Afolabi, of the Federal High Court, Gombe and pledged allegiance to Nigeria, NAN reports.
Maj.-Gen. Bamidele Shafa, the Coordinator, Operation Safe Corridor, while speaking during Monday's programme noted that it is a must for the repentant insurgents to appear before the judicial panel before their reintegration into the society.
"The panel is for the clients to appear before it to confess their pasts and denounce their membership of Boko Haram, Islamic State's West Africa Province (ISWAP) as the case may be.
"And swear Oath of Allegiance to be loyal, disciplined and obedient citizens of the Federal Republic of Nigeria and then make a commitment.
"The commitment is that at the end of the program, where they commit any offence, they stand to forfeit all privileges that they have acquired today and will be liable for an offence against the State."
It will be recalled this online medium previously reported that the Nigerian Military has disclosed that another batch of former Boko Haram fighters will be reintegrated into the society by July 2020.
The repentant Boko Haram fighters will be re-introduced into their communities after completing their de-radicalization and rehabilitation the Defence Headquarters said at a press conference back in May.
According to the Coordinator of the DHQ's Defence Media Operations, Maj.-Gen. John Enenche, the programme is under the activities of the Operation Safe Corridor.