Forbes Gives Hushpuppi New Name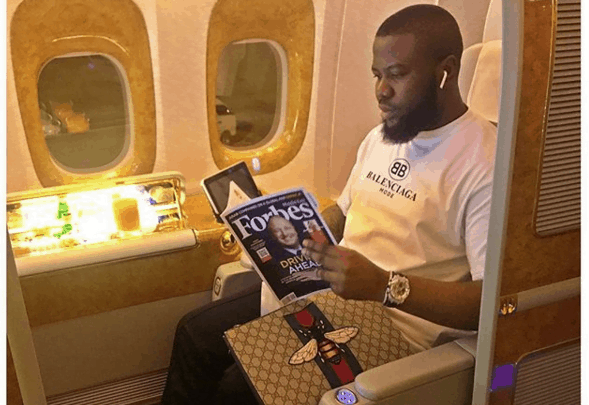 Forbes, an American business magazine, has given cybercrime suspect, Ramon Abbas, better known as Hushpuppi a new name while in US prison.
Naija News reports that Forbes in its latest article about Hushpuppi, described him as 'Billionaire Gucci Master" days after he was recently arrested in the United Arab Emirates and extradited to the United States. The suspected fraudster is said to be held in a coronavirus infested prison in the United States and has reportedly tested positive for COVID-19.
In an article titled: "Billionaire Gucci Master' Detained By FBI Over Alleged $124 Million Premier League Fraud", Forbes wrote: "An English Premier League football club has become embroiled in a criminal complaint brought against self-proclaimed 'Billionaire Gucci Master' Ramon Abbas, a Nigerian influencer with over 2.5 million followers on Instagram. (Forbes does not currently include Abbas on our list of the World's Billionaires.)."
— Forbes (@Forbes) July 9, 2020
Meanwhile, this is coming after Dubai Police authorities released a video of how Hushpuppi and Olalekan Jacob Ponle popularly known as Mr Woodbery were arrested for fraud. The Dubai based Nigerian big boy was arrested for an alleged $35 million by Interpol and the Federal Bureau of Investigation (FBI).
Two weeks after their arrest, Dubai Police confirmed the arrest of the Dubai based Nigerian internet fraudster. The Dubai Media Office said two Nigerians and 10 others were arrested in an operation tagged "Fox Hunt 2". The Dubai Police said the raid resulted in the seizure of incriminating documents pertaining to a well-planned international fraud worth Dh1.6 billion (N168,823,414,720.00).
Hushpuppi and his gang of fraudsters were accused of leading an "international" online fraud network that was committing crimes outside the UAE, including money-laundering, cyber fraud, hacking, criminal impersonating, scamming individuals, banking fraud and identity theft.