Hushpuppi 'Contracts' Coronavirus In US Prison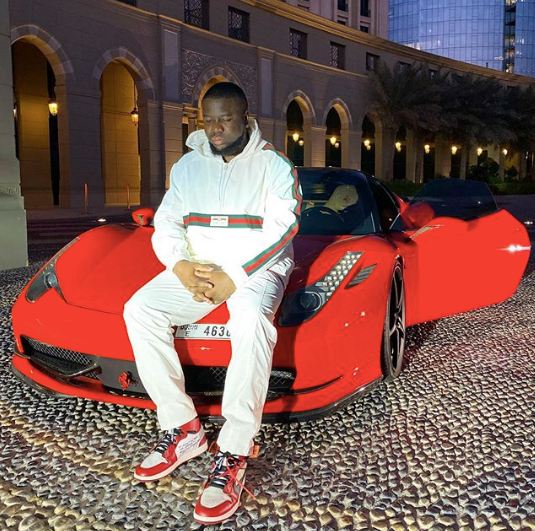 Cybercrime suspect, Ramon Abbas, better known as Hushpuppi has reportedly contracted the deadly Coronavirus in US prison.
Naija News reports that the news of Hushpuppi testing positive to Coronavirus is coming days after he was recently arrested in the United Arab Emirates and extradited to the United States. The fraudster is said to be held in a coronavirus infested prison in the United States.
A Nigerian journalist, Kemi Olunloyo, who made this claim in a post on the micro-blogging site, Twitter, quoted a source at the Federal Bureau of Investigation (FBI), the domestic intelligence and security service of the United States and its principal federal law enforcement agency, to have confirmed Hushpuppi's Coronavirus status.
She tweeted: "#BREAKING Ramoni Olorunwa Abass has contracted #coronavirus on detention??#COVID19 is real. You never know where you'll catch it. Stay home stay safe and don't be a person that will be uprooted from your home for alleged fraud. HushPuppi will now have to be isolated in solitary. Hope he does not commit suicide. Good luck to him."
#BREAKING #Kemitalksinfo A source @FBILosAngeles told me Ramoni Olorunwa Abass reportedly tested #Covid19 +ve asymptomatic. Remember that it CAN'T be announced on US soil due to the HIPAA law. He is locked up at MCC Chicago, a #COVID19 ravaged federal prison??#drkemiolunloyo pic.twitter.com/SdlJWqCZpP

— Dr. Kemi Olunloyo (Pharm.D) (@KemiOlunloyo) July 8, 2020
Meanwhile, this is coming after Dubai Police authorities released a video of how Hushpuppi and Olalekan Jacob Ponle popularly known as Mr Woodbery were arrested for fraud. The Dubai based Nigerian big boy was arrested for an alleged $35 million by Interpol and the Federal Bureau of Investigation (FBI).
Two weeks after their arrest, Dubai Police confirmed the arrest of the Dubai based Nigerian internet fraudster. The Dubai Media Office said two Nigerians and 10 others were arrested in an operation tagged "Fox Hunt 2". The Dubai Police said the raid resulted in the seizure of incriminating documents pertaining to a well-planned international fraud worth Dh1.6 billion (N168,823,414,720.00).
Hushpuppi and his gang of fraudsters were accused of leading an "international" online fraud network that was committing crimes outside the UAE, including money-laundering, cyber fraud, hacking, criminal impersonating, scamming individuals, banking fraud and identity theft.