The Hunter Is Now The Hunted – Reactions Trail Ibrahim Magu Is Suspension As EFCC Boss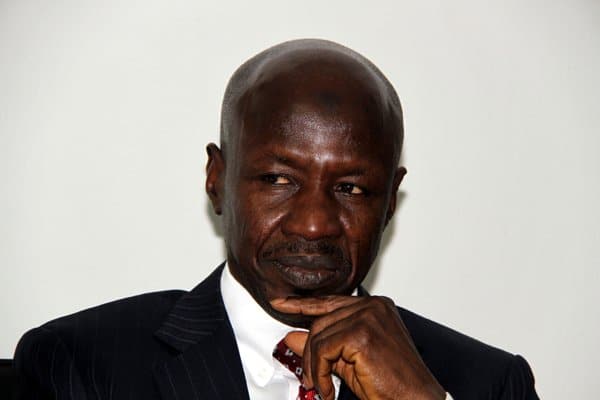 Ibrahim Magu was on Tuesday suspended as the acting chairman of the Economic and Financial Crimes Commission (EFCC).
As previously reported by Naija News, Magu had been facing a presidential panel since Monday investigating claims of massive corruption against him as the boss of Nigeria's foremost anti-corruption agency.
While official communications on the matter are still been expected from the presidency, Nigerians have taken to the micro-blogging site, Twitter to air their opinions on the Magu saga.
Some Nigerians believe its a case is now the issue of the hunter now becoming the hunted, even as others say Magu must have offended some people in high places.
See some reactions:
Wetin the guy do? Step on mighty toes? #MaguEFCC

— Oluphumee (@Akazo) July 7, 2020
The bushmeat don catch the hunter. #lockdownextension #Adeherself #tuesdayvibes #MaguEFCC #Magu @Gidi_Traffic @

— Chidi Peter. O. (@IdentikalTwinz) July 7, 2020
Wahala too don get problem This Life No Balance Oh…#MaguEFCC #MaguSuspended

— Saname (@sanasneh) July 7, 2020
When the priest becomes the sinner. Who will atone for his sins? #IbrahimMagu #MaguEFCC

— Oziọmã. S. Kánụ (@88ideass) July 7, 2020
Another school of thought is of the opinion that if Magu himself has been caught in the web of corruption, how can the validity of all arrests and prosecution done by the agency under his watch be validated as true and fair.
How do we now validate EFCC's fight against corruption for the past 5years… Does it mean only those who didn't sort out Magu were being targetted?…. I just hope this is not some case of inter-agency beef sha… #MaguEFCC https://t.co/0MYZrSd8zH

— Well-Meaning NIGERIAN™ ❁ (@_little_god_) July 7, 2020
Is Ibrahim Magu Corrupt #MaguEFCC #lockdownextension #BBNaijaReunion #TheMATTER #ThirdMainlandBridge #Buhari #RenosNuggets #DSS #Thread pic.twitter.com/Bjl9kcrMlF

— Peace Ogah (@ogah_peace) July 7, 2020
Looks like this Integrity thing is a hard thing to own for Politicans/Public Servants.

I sincerely thought Magu was one of the best thing to ever happen to EFCC and the Anti Corruption fight in Nigeria.

The man really messed up and he has disappointed a lot of people.

— Ọláyẹmí (@YemajiConcept) July 7, 2020
The 8th Senate was right to insist that the embattled EFCC chairman Ibrahim Magu does not possess the integrity to occupy the coveted position. His travail has further reinforced the assertion that the Buhari led administration can not fight corruption

— Realist (@efeCamilus) July 7, 2020
If you see any person chairing the @officialEFCC and not in conflict with Nigerian politicians, he's not doing the job well. The way I see #MaguEFCC case "the canals have won the battle"#EFCC #Magu

— Shago Muneer Adamu (@adamushago) July 7, 2020
#MaguEFCC inside life, one day you are fighting crime, then next day you are the crime itself…???? pic.twitter.com/bbU4FlgXn3

— Michael Mathias ⚪️ (@IamMichaelMatt) July 7, 2020
Some others even believe all the happenings has a political inclination towards 2023 general elections in Nigeria.
BREAKING: Presidency Suspends Acting EFCC Chairman, Magu.

Oshiomhole, APC working committee gone, Magu gone. APC is up to something most likely towards 2023.

This is a formation.

— Ayemojubar (@ayemojubar) July 7, 2020
Magu's removal now likely to set off a succession controversy.

Ola Olukoyede, a Redeemed pastor from Ekiti & EFCC secretary, is the next most-senior official that should take over. But he's "not an operative."

This leaves Mohammed Abba, director of operations, as next in line.

— Samuel Ogundipe (@SamuelOgundipe) July 7, 2020
News: Magu suspended | Reality: Vacancy at EFCC, new Chairperson wanted.

— JJ. Omojuwa (@Omojuwa) July 7, 2020
I said Magu will be suspended, He has been suspended

I said a new person will be announced, Let's wait someone else will surely be announced

The new person will go after Tinubu and every other person that will stop the North agenda 2023

— Adenekan Mayowa (@Mayorspeaks) July 7, 2020
We've not gotten to the interesting part of this APC / CPC clash until that moment they start revealing their deafening secrets.

Magu and Oshiomhole are part of the sacrificial package.

— Ayemojubar (@ayemojubar) July 7, 2020
Finally, Oga at the top is aware that Magu is also corrupt!!!

— Uncle Bangees™ (@nuhuphakee) July 7, 2020