Ajimobi Is On A Level Higher Than That Of Makinde – Ganduje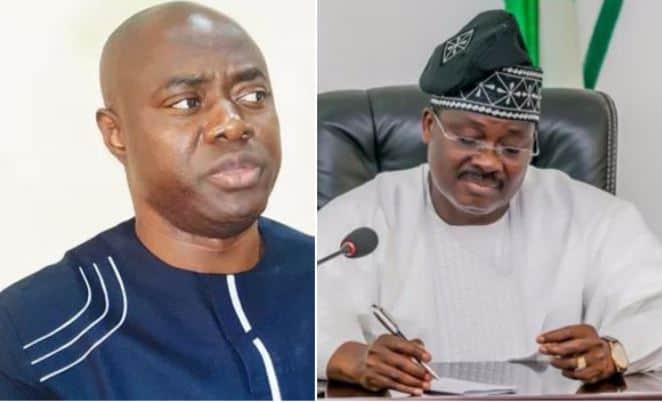 Fatima Ganduje-Ajimobi, a daughter-in-law of the late ex-Oyo State governor, Abiola Ajimobi has opined that the incumbent Oyo State Governor, Seyi Makinde can never measure up to the late Ajimobi.
She said this in reaction to the continuing face-off between the Ajimobi family and the current administration in Oyo State led by Seyi Makinde over a large parcel of land said to have been illegally acquired by the former Governor Ajimobi.
The Ajimobi family reportedly wanted to bury their late patriarch on the parcel of land but the Makinde government had maintained it couldn't give such approval as the land in question is a subject of litigation.
Naija News reports Fatimah is the daughter of the Kano State Governor, Abdullahi Ganduje and she's married to Idris, a son of the former Governor.
Her statement comes as a response to a tweet on Tuesday by Segun Awosanya with the username, @Segalink. Awosanya had implied that the Ajimobi family had tried to emotionally blackmail Governor Makinde but their schemes failed.
Awosanya had tweeted, "I don't know how many people are glad to know that Seyi Makinde, the Governor of Oyo State, cannot be guilt-tripped into endorsing a heist wrapped in emotions at the expense of the beleaguered people of Oyo State. I'm personally happy he saw through the shenanigans."
Responding to the tweet, Fatima said; "Lol. (Face with tears of joy) half truth is dangerous sha! SM can never ever, ever come close to Ajimobi. Not your mate!!!"
It will be recalled also that Florence, the widow of the late Ajimobi had in a video that went viral, also openly accused the Makinde administration of neglecting the family.
The late Abiola Ajimobi was buried on Sunday according to Islamic rites at his 6th Avenue, Yemoja Street, Oluyole Estate residence amid tight security.
Source: Naija News